The Boscoreale Hoard is a treasure discovered in 1894/95 during archeological excavations in the remains of an ancient Roman villa in the town of Boscoreale near Pompeii.
It is an amazing treasure of beautiful pieces of jewelry and more than 1000 gold Aurei. These works of art are partly preserved in the Louvre Museum in Paris.
This treasure was buried following the eruption of Mount Vesuvius in 79 AD.
Although it is known that the treasure consisted of gold Aurei of all kingdoms up to the year 78 including, no official record of the treasure was made before it was scattered in the local museums and coin collectors. Without asserting with certainty the origin of the Boscoreale treasure, their typical patina allows them to be clearly differentiated.
The gold Aurei of this treasure feature a typical reddish-purple-brown discoloration that is very distinctive known as "Boscoreale toning." The reason is that these parts were subjected to very intense heat created by the pyroclastic cloud generated during the volcanic eruption. The coin above is a great example of this toning, offered by our new dealer Thomas Numismatics.
The Aurei of this treasure with this very special hue are often preserved in old amateur collections.
Check some Boscoreale Hoard coins below or find them on MA-Shops, just click here.
25,725.00 US$
Weight: 8.16 gr. – Diameter: 20.20 mm
Period: Julius Caesar
Type: Aureus
Mint / City: Rome
Rarity: extremely rare in the state.
Provenance: probably Boscoreale Treasure.
Unfortunately no formal study of the Boscoreale coins was made before they were dispersed into the market.
Obverse : Veiled female head.
Reverse : Emblems of the augurate and pontificate: lituus capis and securis.
Aureus with all bright original luster. Wonderful deep red-purple tone consistent with the Boscoreale hoard of 1895.
23,650.00 US$
Weight: 7.4 gr. –  Diameter: 19 mm
Catalog: RIC II 1114; Lyon 10; Calicó 682; Biaggi 338.
Lugdunum (Lyon) mint. Struck AD 71.
Obverse: IMP CAESAR VESPASIANVS AVG, Laureate head facing right.
Reverse: TR POT COS III, Aequitas standing left, holding scales in right hand, rod in left.
Practically extremely fine with a pleasing bold portrait, red tone in the devices.
Although it is impossible to tell for certain whether any particular coin was from the Boscoreale Hoard, the presence of deep reddish toning on an Aureus dating to before the eruption is regarded as highly suggestive that the coin was from this hoard, or was found elsewhere in the vicinity of Pompeii or Herculaneum.
14,860.00 US$
Weight: 7.25 g – Diameter: 18.70 mm
Catalog: Calicó 819; RIC 959; BMC 231.
Obv: CAESAR AUG F DOMITIANUS; laureate head of Domitian to the right.
Rev: captive kneeling to the right, offering standard with vexillum; in exergue: COS V.
A superb portrait of high style, light reddish tone. Possibly ex Boscoreale hoard.

43,995.00 US$
Material: Gold
Weight: 8.17 g – Diameter: 20.00 mm
About Us: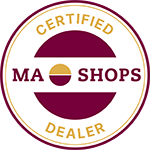 MA-Shops.com, The World's Most Trusted Numismatic Marketplace, offers more than a million ancient, U.S. and ancient coins, along with medals, banknotes, militaria and antiquities. Our vibrant collection is offered by verified and Certified Dealers from around the world. Collectors can search, select and purchase conveniently and confidently knowing every item is authentic and guaranteed. Founded in 2005 by Joachim Schwiening, MA-Shops has offices in Germany and the US.
To become a dealer or for more information, contact us at info@ma-shops.com