An exceptionally stunning coin with on the obverse Titus as Caesar with the inscription: T CAESAR IMP – VESPASIANVS.
The reverse shows Roma seated on oval shields, holding transverse spear.
Inscription: COS VI
Offered at
11,550.00 US$ / 10.265,00 EUR
For more Titus coins, just click here.
Second Roman Emperor of the Flavian Dynasty
Titus Caesar Vespasian was the second Roman emperor of the Flavian dynasty. He succeeded his father Vespasian and he reigned for only 2 years, from his father's death in AD 79 till his own death in 81 AD. He died of fever.
Before his reign, he was a military commander in chief and he ended the Jewish war in 69 AD. Titus was praised by ancient historiography as the ideal ruler, because of a good relationship between the Senate and the Emperor. As emperor, Titus is best known for completing the Colosseum and for helping with two disasters, the eruption of Vesuvius in 79 AD and a fire in Rome in 80 AD.
In 81 AD, he was succeeded by his younger brother Domitian.
37,100.00 US$
Catalog: RIC.476
Weight: 25.69 g – Diameter: 37.00 mm
Material: Bronze
Titus on quadriga right,T CAESAR VESPASIAN IMP III PON TR POT II COS II
37,500.00 US$
NGC certificate: 4680608-002
1,280.00 US$
Catalog: RIC.330
Weight: 2,59 g
Obv: Ephesus. IMP CAESAR VESPAS AVG COS III TR P P P
Rev: LIBERI IMP – AVG VESPAS Heads of both princes facing each other; in the middle EPHE
39,375.00 US$
Catalog: Calicò 760, Hendin 1578a
Weight: 7.22 g – Diameter: 18.86 mm
Obv: laureate head of Titus; IMP TITVS CAES VESPASIAN AVG P M /
Rev: Male Jewish captive kneels r. hands bound behind, trophy above; TR P VIIII IMP XIIII COS VII P P.
Rare Judaea Capta type
About Us: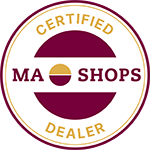 MA-Shops.com, The World's Most Trusted Numismatic Marketplace, offers more than a million ancient, U.S. and ancient coins, along with medals, banknotes, militaria and antiquities. Our vibrant collection is offered by verified and Certified Dealers from around the world. Collectors can search, select and purchase conveniently and confidently knowing every item is authentic and guaranteed. Founded in 2005 by Joachim Schwiening, MA-Shops has offices in Germany and the US.
To become a dealer or for more information, contact us at info@ma-shops.com