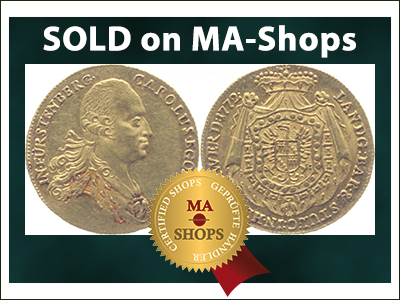 BUYING & SELLING WITH MA-Shops, the biggest portal for coins, banknotes, medals and other collectibles. Checkout the current highlights.
With the help of many search functions, you will find exactly what you are looking for.
Buying a rare Ducat, or just about any other rare coin or banknote – is easy on MA-Shops. Visitors can choose categories, search results can be narrowed down to the year, price ranges and countries.
And it´s trustworthy, all sellers on MA-Shops are certified and professionals.
Visit the marketplace at www.ma-shops.com
Below some recently sold on MA-Shops
"Podmokler Ducat", 1772 Fürstenberg Karl Egon I.
Grade: winziger Kr. im Wappen
Catalog: Dollinger 42, Fr. 1065. 3,49gr. Exemplar der Slg. K. Walter/Offenburg
Ca. 454-404 BC. Greece Attica Athens Tetradrachm
Catalog: HGC 4, 1597. SNG Copenhagen 32.
NGC certification number: 4377027-049
500 Kurus 1327 Türkei
Grade: EF, Rdf.
Mintage: 30
Fb. 55; KM 784; Ölcer 35.010; Pere 1020.
If you also want to sell on MA-Shops, start your own shop.
OPEN YOUR MA-SHOP and sell to 300.000 collectors
Items listed on marketplaces and search engines, Google & Co.

Marketing Tools, dedicated MA-Shops Support

Email Campaigns

Multi Language, English, French, German, Dutch, Spanish, Italian, Russian, Chinese