The name of our shop says it already! We specialize in the sale of Roman coins dating from Julius Caesar up until the last Emperor of the West Roman Empire. About 25 years ago I purchased my first Roman denarius minted under Antoninus Pius. Like many people I first thought that Roman coins could only be found in museums, safely ensconced in cases behind glass.
Many coins followed after that first purchase. Until they became so many that I started to sell the superfluous ones. My aim as a collector is to possess one coin depicting each emperor and their relatives. When the emperors are common, I look for coins with a rare bust or special depiction on the reverse side. I also love usurpers. The shadier they were, the better!
The most gratifying about acquiring and selling Roman coins is the part where you come across new and unknown variations on a regular basis. This way one's knowledge grows throughout the years, and it never becomes boring.
My relationship with my customers gives me great satisfaction as well. Regularly they send me photographs of their finds and luckily I can help them determine which coins they found. Sometimes this can be a challenge when a coin has seen some extensive wear and tear.
In 2017 the hobby grew out of hand and became official. We now sell countless Roman coins to our customers across the world. We speak Spanish, German, French, English and Dutch. To a lesser degree we can communicate in Italian and Portuguese.
I hope to welcome you in our shop soon!

Visit the shop
https://www.ma-shops.com/romancoin/
Coins offered by this dealer:
1,450.00 US$
Catalog: ric 77
Weight: 2.02 g – Diameter: 19.00 mm
Obv: IMP CAES C PESC NIGER IVST AVG.
Laureate head right.
Rev: SALVTI AVGVSTI.
Salus standing right, feeding serpent held in arms; lighted altar to right.
Rare
1,200.00 US$
Catalog: RIC 2015
Weight: 4.48 g – Diameter: 22.00 mm
Mintage: 1
Rome mint. Struck AD 426-455. D N PLA VALENTI NIANVS P F AVG, rosette-diademed, draped, and cuirassed bust right / VICTORI A AVGGG, Valentinian, diademed and in military attire, standing facing, holding long cross in right hand and Victory on globe in left, foot on head of human-headed coiled serpent.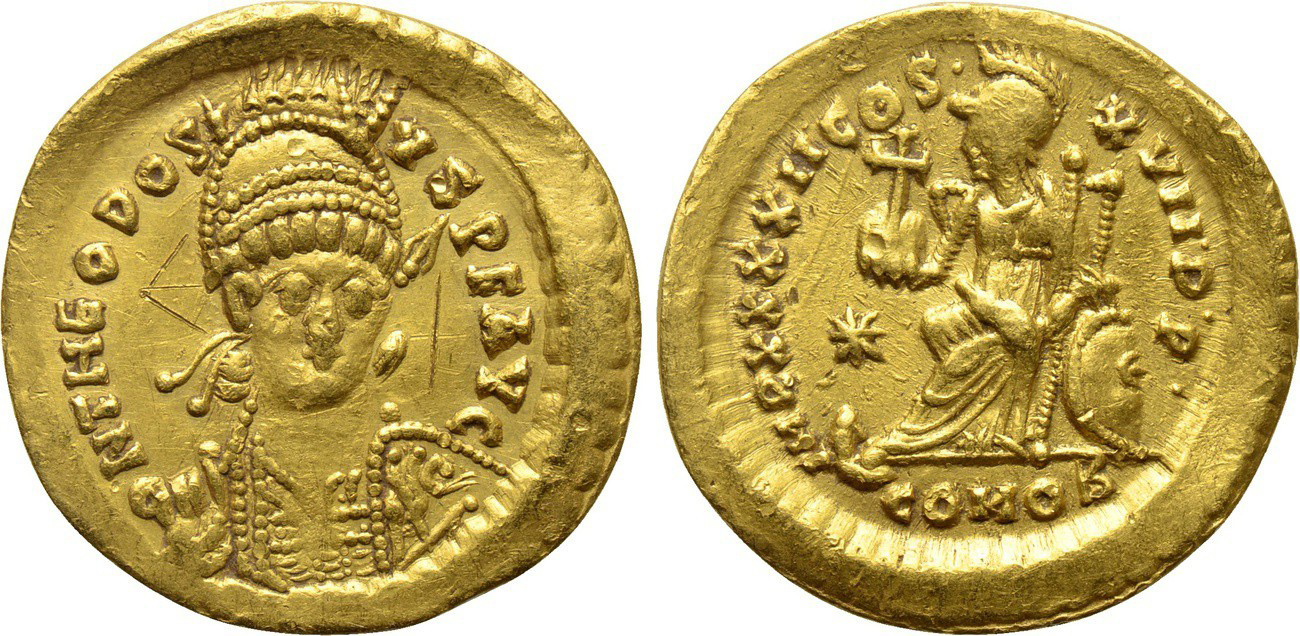 700.00 US$
Catalog: RIC 310; Depeyrot 84/1
Weight: 4.48 g – Diameter: 21.00 mm
Obv: D N THEODOSIVS P F AVG.
Helmeted and cuirassed bust facing slightly right, holding spear and shield decorated with horseman motif.
Rev: IMP XXXXII COS XVII P P / COMOB.
Constantinopolis seated left on throne, with foot set upon prow, holding globus cruciger and sceptre, and resting elbow upon shield; star to left.
510.00 US$
Catalog: RIC 605; Depeyrot 93/1
Weight: 4.41 g – Diameter: 20.00 mm
Obv: D N LEO PERPET AVG.
Helmeted and cuirassed bust facing slightly right, holding spear and shield decorated with horseman motif.
Rev: VICTORIA AVGGG Z / CONOB.
Victory standing left, holding jeweled cross; star to right.
OPEN YOUR MA-SHOP and sell to 300.000 collectors

Items listed on marketplaces and search engines, Google & Co.
Marketing Tools, dedicated MA-Shops Support
Email Campaigns
Multi Language, English, French, German, Dutch, Spanish, Italian, Russian, Chinese
Feel free to contact us here