MA-Shops: Coin Collecting
It is my intention to write several blogs about general subjects of coin collecting. In this first blog about a general subject I will discuss the quality of coins.
Ever since I started as a professional in the numismatic world I get questions about quality almost every day. The questions I hear the most are: Should I buy a more expensive high quality coin or a less expensive one in a lower quality?
How important is the quality for value?
When can you say that a coin is of a high quality? Is it wrong to collect coins of an average quality or of a lower quality? In this blog I will try to give answers to these questions instead of giving a tutorial in how to grade a coin (what you might have expected after reading the title of this blog).
The importance of the quality for the value of a coin is obvious, and I think no one disagrees with me on this. The higher the quality of the coin, the higher the value, although I've signalled a trend in collecting extremely low graded coins.1
This has increased the value of these specific coins. This specific phenomenon explains the nature more than the lawfulness as mentioned before.2
22,000.00 US$
Catalog: KM-462.2, S&W-2.1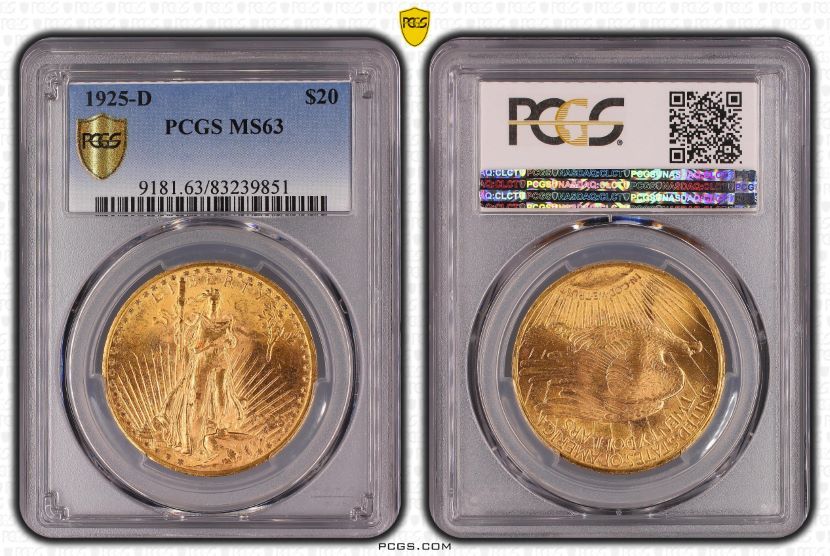 10,500.00 US$
Catalog: PCGS 9181
PCGS certification number: 83239851
Supply and Demand
In the end it is all about supply and demand. So how important is the quality for the value of the coin?
If I look back at old auction- and price lists3 I can conclude that indeed the prices then, for coins in a high quality, were higher but not in the ratio of today's prices.
It is obvious that there is a trend: every year the ratio between the prices of average quality coins and high quality coins becomes bigger. Will this trend stop soon? I don't think so, of course there will be a maximum in the possible price of a coin but that point will be reached a long time from now. But does that mean you do something wrong when you don't buy that high quality coin?
If you ask ten collectors what a high quality coin is you will get ten different answers. I will now discuss my opinion about high quality coins based on my own experiences.
13,000.00 US$
Weight: 13.52 g
Catalog: KM:335.1
Laureate head right,Crowned back to back L's with sceptre and hand of Justice crossed at center behind circle,LVD XIIII D G FR ET NAV REX
32,500.00 US$
Catalog: RIC 45; Calicó 2818; Hill 416.
Weight: 7.43 g
Obv: ANTONINUS AVGUSTUS, laureated, draped and cuirassed bust of young Caracalla to the right.
Rev: SEVERI PII AUG FIL: Caracalla, with Victory on globe and spear, standing facing, at his feet left: sitting captive.
Ref: BMC – (cf. 172 footnote). Ex Leu 83 2002, lot 791.
Rare. A beautiful representation of great artistic merit of the 11 year old emperor, struck in high relief.
Definition High Quality Coin
A high quality coin can be defined as follows: A coin in a quality that is significantly higher than average for that specific type of coin. So if you collect Islamic coins, a high quality coin will have a lower grade than if you collect euro coins in a high quality.
But is it wrong when you collect coins in a lower quality? Absolutely not! If your intentions are to get richer by collecting coins, my advice would be to collect in the highest possible quality you can afford. A lot of people however, don't collect for this reason. They collect because it is their passion to collect coins they like. Because of their history, their iconography, their context, etc..
10,000.00 US$
Lead Trial 2 Roubles 1722 PCGS AU50
Bitkin-H1748 variety, Severin-533 variety, 42.27g.
Ex: Robert Hesselgesser Collection
It doesn't matter for them if the quality is extremely high. This is the reason why all the coins have their value and are not worthless when they are not of a high quality. My general advice will be that you must choose how you want to collect the coins you like. Do you want to build a collection that will raise in value through time, do you want to collect coins because of other reasons, or is it a combination of both?
OPEN YOUR MA-SHOP and sell to 300.000 collectors

Items listed on marketplaces and search engines, Google & Co.
Marketing Tools, dedicated MA-Shops Support
Email Campaigns
Multi Language, English, French, German, Dutch, Spanish, Italian, Russian, Chinese
Feel free to contact us here