Money was only available in the form of coins until the 7th-11th century.
Paper money first occurred in China and the idea was brought to Europe by Marco Polo.
The first country in Europe to introduce paper money as their currency was Sweden in 1661. With the paper money they changed the way money was perceived, because with the notes being worth nothing but the value it was given it was pure fiat money.
Paper money plays a huge part in history because it was the reason for many inflations and is easy to counterfeit.
Check here some of old banknotes, available on MA-Shops.
560.00 US$
Catalog: Pick A62
War Treasury and Purchasing Commissions
380.00 US$
Regio Finanze-Torino
Catalog: P.S101r
Size: 34 x 21 cm
1,645.00 US$
PCGS Choice About New 55 Apparent NC-130
3,050.00 US$
Catalog: KM:A17b, Lafaurie:90
With text: …en Espces d'Argent.,Lettered left edge.,Black.
2,030.00 US$
Qing Dynasty
About Us: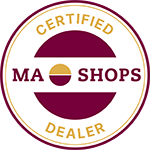 MA-Shops.com, The World's Most Trusted Numismatic Marketplace, offers more than a million ancient, U.S. and ancient coins, along with medals, banknotes, militaria and antiquities. Our vibrant collection is offered by verified and Certified Dealers from around the world. Collectors can search, select and purchase conveniently and confidently knowing every item is authentic and guaranteed. Founded in 2005 by Joachim Schwiening, MA-Shops has offices in Germany and the US.
To become a dealer or for more information, contact us at info@ma-shops.com