The first Dutch banknotes
I was looking on MA-Shops for some inspiration. I wanted something new. I thought by myself, ''why should I not write about banknotes?'. Most collectors of coins also collect banknotes because they are both a medium of payment.
I decided to discuss a specific region in the world that produced banknotes that attracts collectors all over the world. I will discuss the earliest banknotes from the Netherlands.
MA-Shops has an impressive collection of banknotes from the Netherlands, if you collect banknotes from the Netherlands then you can find them here!
"Robin" Banknote
The first banknotes of the Netherlands were produced in 1814, so called "roodborstjes", what translated means "robin birds'. They were very simple in their iconography. They only had a simple ornamental border and the letters on it were written in a typical font.These two elements did not had in the first place a decorative function but a security function.
Unfortunately, these notes are so rare that they are rarely on the market. At this time there is no example available.
16,850.00 USD
Catalog: Alm.31-6
Signature: Betz.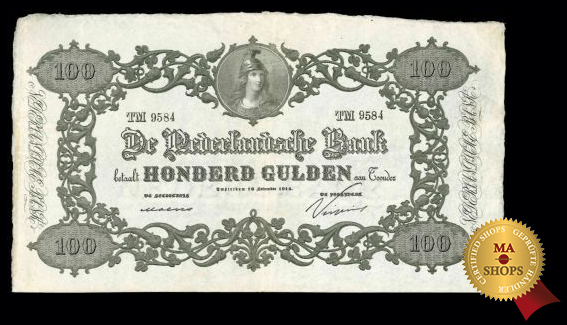 15,750.00 USD
Catalog: 114-9 serie nr. TM 9584 | AV.nr: 78.9a
The 1860's series
The next issue of banknotes that followed can be found on MA-Shops. These banknotes are called the 1860's series. These banknotes have a iconography that can be seen as representative for the Netherlands and it shows some authority, in contrast with the previous one.
The font of the letters changed to a more decorative one. On the obverse of the banknotes (values of 100 gulden and higher) we can see the image of a helmeted woman. This is a representation of the Dutch virgin. This made the iconographic theme more national. It almost screams that it is from the Netherlands! Also new on this banknotes is that the back of the banknotes is printed.
The banknotes with a value lower than 100 gulden didn't had the Dutch virgin on it. They had the Coat of arms of the Netherlands with the Dutch lion on it. For the same reasons of course.
Here are some other Dutch banknotes:
235.00 USD
Catalog: Mev. 12-3; P. 16; PL12c.
Signature: Kulenkamp Lemmers – de Vries
2,030.00 USD
Catalog: Alm.143-1
Willem III – Rare in this quality
295.00 USD
Catalog: NVMH 47-1
1,050.00 USD
NETHERLANDS P.86
PMG Graded 53 ABOUT UNCIRCULATED
Certification number: 6010111-007
5,250.00 USD
Catalog: M.154-1
REMBRANDT
My next blog will be about other banknotes. If you want to know more about specific notes let MA-Shops know!
Visit the website and take a look for other Dutch Banknotes. Just click this link https://ma-shops.com/s/mc7394
Written by Joël van Dam, Owner of Joëlnumismatics.
OPEN YOUR MA-SHOP and sell to 300.000 collectors

Items listed on marketplaces and search engines, Google & Co.
Marketing Tools, dedicated MA-Shops Support
Email Campaigns
Multi Language, English, French, German, Dutch, Spanish, Italian, Russian, Chinese
Feel free to contact us here