I was reading through some numismatic books for a new subject for this blog; several subjects crossed my view. For example, military banknotes, Indian coinage, Byzantine coinage and Ottoman banknotes. I knew that this were specialised subjects for most collectors and for this blog I was searching for a more accessible subject for a wider audience. I was looking at my bookcase again and I saw the standard book for Dutch coins from 1795 until 1969.1 This was my first official numismatic book I had in my bookcase. For the reason that the first thing I ever collected were coins from the Dutch kingdom. I found it funny that I never wrote any blog about these coins. Not only because of my personal experiences with these coins but also because of their huge popularity across the world. It still amaze me that I sell these coins to collectors and dealers all over the world. I've sold them to people in whole Europe but also in Asia, the Middle-East and America. So in this blog I will discuss coins from the Dutch kingdom.
1,975.00 US$
Catalog: Schulman 257
Struck with polished stamps.
Obverse: Head to the right.
Since 1815 seven monarchs have ''ruled'' over the Netherlands. Willem I was the first King of the Netherlands from 1815 until 1840. Willem II was King of the Netherlands for a shorter period of time between 1840 and 1849. Willem III was king of the Netherlands for a longer period of time between 1849 and 1890. In 1890 he died but his daughter was too young to became queen therefore his wife Emma became regent for a number of years until his daughter was 18 years old. Wilhelmina became queen of the Netherlands in 1898. She abdicate in 1948 when her daughter became queen, Juliana. In 1980 also Juliana abdicated and her daughter became queen, Beatrix. She abdicated almost six years ago. Therefore her son Willem-Alexander became King of the Netherlands in 2013. Several denominations were minted between 1817 and 2019. The denominations that were minted were: 50 gulden; 20 gulden; 10 gulden( silver and gold); 5 gulden ( also in gold); 3 gulden; 2,5 gulden; 1 gulden; 0.5 gulden; 25 cent; 10 cent; 5 cent; 2,5 cent; 1 cent; 0,5 cent; the well-known euro coins since 2001. The metal that was used for the coins depends on the denomination and the period that is was minted. Most used metals were silver, gold, nickel and bronze.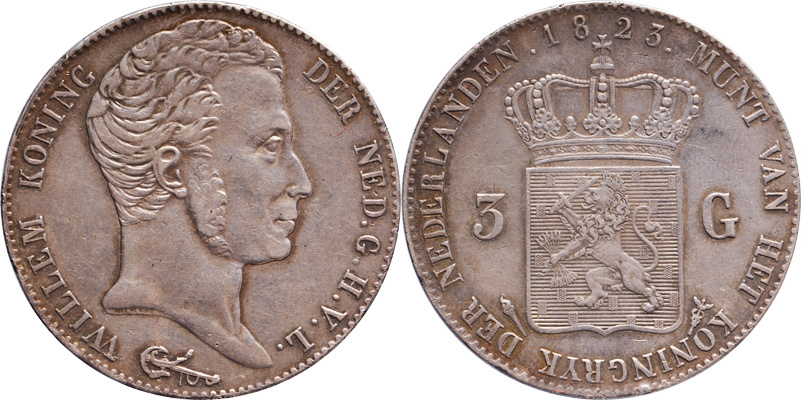 1,400.00 US$
Catalog: Schulman 245
Gewicht: 32.22 g – Durchmesser: 40.00 mm
MA-Shops offers more than 13,000 Dutch coins and almost 6,000 from the Dutch Kingdom. The prices are between the €1 and the €25,000. So, if you want to add a Dutch coin to your collection I'm sure you can find one (or more of course) on MA-Shops. They also have a lot of top Dutch coins in their collection to offer. I have chosen three Dutch coins from MA-Shops to discuss closer. At first the 3 gulden 1823U. Most of the time these coins are in a VF condition but this coin is in a beautiful condition. At second an almost magical coin. It is a 10 gulden 1842 in a Mint state condition. Only 860 were minted and therefore it is extremely rare. Beside the fact that it so rare it also has a beautiful iconography. Especially the bust of Willem II. I love the details. Take a closer look and you can even see the veins on his had! The last coin I want to discuss is an undervalued coin. This coin is the 5 cent 1848. At top 380 were minted. So this coin is extremely rare. But the price, compared to the rarity is still low. This coin is also in a proof quality so it would be a great investment for anyone who likes Dutch coins.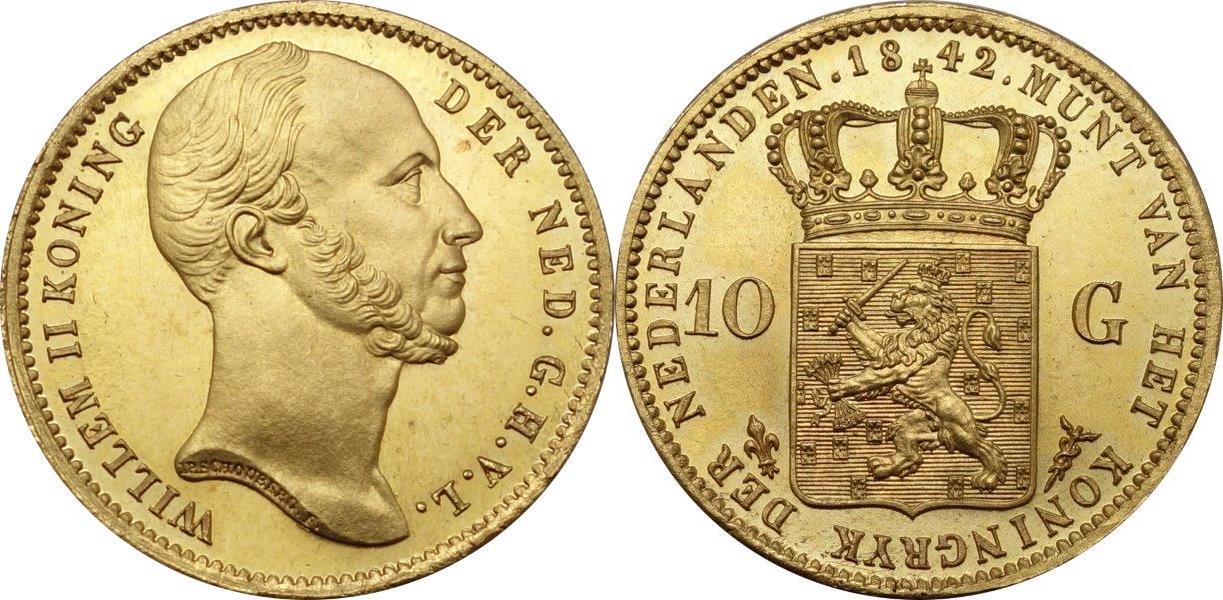 15,225.00 US$
Obverse: Bust to the right
Reverse: Crowned Dutch coat of arms
Edge lettering: * GOD * ZY * MET * ONS
Weight: 6.729 g – Ø 22.5 mm
Mintage: 860
6,600.00 USD
Catalog: Schulman 837
Mintage: 230 pieces – Very rare
1 Schulman, J. (1969). Handboek van de Nederlandse munten van 1795 tot 1969 : Een tijdperk van 175 jaren uit de Nederlandse numismatiek, met volledige opgave van de in die tijd geslagen munten, en afbeeldingen van ieder nieuw type, voorafgegaan door een algemene inleiding en historisch overzicht (4e geheel herz. en verb. dr.. ed.). Amsterdam: Schulman
Written by Joël van Dam, Owner of Joëlnumismatics.
OPEN YOUR MA-SHOP and sell to 300.000 collectors

Items listed on marketplaces and search engines, Google & Co.
Marketing Tools, dedicated MA-Shops Support
Email Campaigns
Multi Language, English, French, German, Dutch, Spanish, Italian, Russian, Chinese
Feel free to contact us here