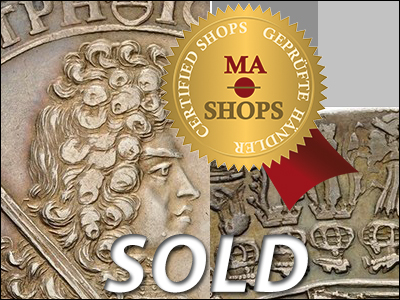 Masterpieces
Please check below, the Thaler 1692 -Saxony in a very good condition just sold for more than 4,100 US$. Or the sample of 10 Mark 40 Years Liberation with a mintage of only 50 pieces, recently sold for almost 7,900 US$ . Except these both coins, a lot of highly qualified coins were sold last week.
You will find beautiful coins on the MA-Shops website. With more than 300 certified dealers, MA-Shops offers a wide range of coins, banknotes and medals. Regular returning collectors find their way to the MA-Shops website.
Take a look, search and grab the coin you always wanted.
Visit the site https://www.ma-shops.com/s/mc6/
7,850.00 US$
Catalog: J 1603P4
Material: Cupro-Nickel
Mintage: 50
5,350.00 US$
Material: Gold
Weight: 3.47 g
Diameter: 22.00 mm
4,150.00 US$
Catalog: Davenport 7647
Johann Georg IV. 1691-1694 Taler 1692, IK-Dresden. Very rare
OPEN YOUR MA-SHOP and sell to 300.000 collectors
Items listed on marketplaces and search engines, Google & Co.
Marketing Tools, dedicated MA-Shops Support
Email Campaigns
Multi Language, English, French, German, Dutch, Spanish, Italian, Russian, Chinese
Feel free to contact us here