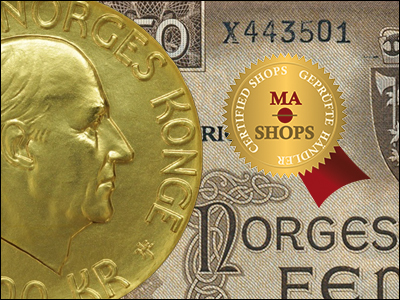 MA-Shops expands and welcomes a new Dealer from the north.
We warmly welcome the new MA-Shop Roschberg,who found his way from the beautiful Norway to us.
Rare is the union of beauty and purity. ~Juvenal~
Roschberg Mynthandel was established in 2003, as a company with two owners, one of them is Henning Roschberg.
In 2008 they have moved their Walk-In Store to their current location nearby the Norwegian Castle.
A highlight was the opening of a second Walk-In Store in November 2015. Now Roschberg Mynthandel is the only coin shop in Norway, which has two Walk-In Stores. This store is located in the suburban town, on the outskirts of Oslo, called Lillestrøm.
Mainly they are specialized in Norwegian Coins, but also bullion gold and silver and trading of foreign coins, mostly high grades is their daily business.
This Dealer is a NGC Authorized dealer, who occasionally send coins for slabbing.
Roschberg Mynthandel and his team of 6 experts are happy to see you arround. A fabulous split of expertise, which are three persons full time working in the Coin Department, one team member especially for jewlery and one expert fulltime just for silverware. If you are nearby just step in and have a look or visit us in our online shop on MA-Shops:
https://www.ma-shops.com/s/roschberg/
3,600.00 US$
Norwegian Coin
2.5 Speciedaler
2,975.00 US$
Coins of Norway
1,125,00 US$
Norwegian Coin
995.00 US$
Norwegian Coin
995.00 US$
Large Coin Series
OPEN YOUR MA-SHOP and sell to 300.000 collectors

Items listed on marketplaces and search engines, Google & Co.
Marketing Tools, dedicated MA-Shops Support
Email Campaigns
Multi Language, English, French, German, Dutch, Spanish, Italian, Russian, Chinese
Feel free to contact us here