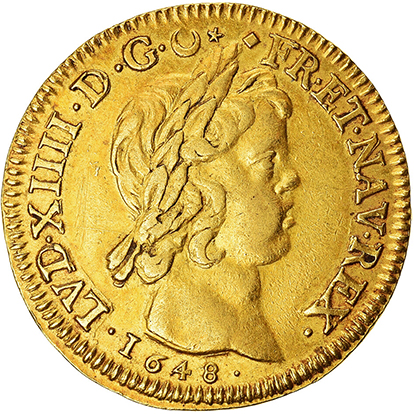 Vive la France: Culture, Cuisine, and Coins.
(Sarasota, Florida) November 15, 2022 – Eager for new experiences in a post-pandemic era, travelers are again flocking to France. Over 90 million people have already visited this year, making France the world's most popular tourist destination in 2022. With iconic landmarks, world-renowned art and fashion, sensational food and wine, stunning beaches, beautiful countryside, and a rich and fascinating history, the appeal of France is undeniable.
French food and drink is legendary. France is home to over 600 Michelin stars with 30 restaurants receiving the highest accolade of three Michelin stars. With over 2 million acres of vineyards, France is the most extensive wine-producing nation in the world. The acclaimed French Bordeaux wine region is noted for its production of Merlot and Cabernet Sauvignon, along with Cabernet Franc and Petit Verdot.
The alluring Mediterranean Sea coastline of France is about 600 kilometers. On the east is the French Riviera, lined with miles of both rocky and sandy beaches with cerulean waters. Many festivals are held in this area, including the Film Festival of Cannes, and the Formula 1 Grand Prix of Monaco. Also in this region is the city of Marseille, famous for soap making, its ports, and over 300 days of sunshine per year.
Paris, the capital of France, is a beacon of culture and the arts. The epic Louvre Museum, home to world famous masterpieces of the Mona Lisa and the Venus de Milo, the soaring Eiffel Tower, the monumental Arc de Triomphe, Notre-Dame, Montmartre and the Sacré-Cœur, are among the many treasures in the City of Light. Local pleasures not to be missed include sidewalk cafes, daily baked bread – the Parisian staff of life, and markets brimming with cheese, produce and flowers. Paris is also a destination for shopping with high-end stores and items by famous fashion designers, home furnishing emporiums, jewelry, rare coins and antiques.
MA-Shops, The World's Most Trusted Numismatic Marketplace, is pleased to offer rare French coins and banknotes:
Philippe VI, Florin Georges, 1346
The gold coin's obverse features St. Georg riding left spearing the dragon with a lance, in his left escutcheon with cross, around multipass and lilies. On the reverse, a cross of flowers in quatrefoil in the corners one escutcheon each with three lilies. One of the rarest and most symbolic coins from the Hundred Years' War rated AU(55-58). Offered at $72,345 (USD).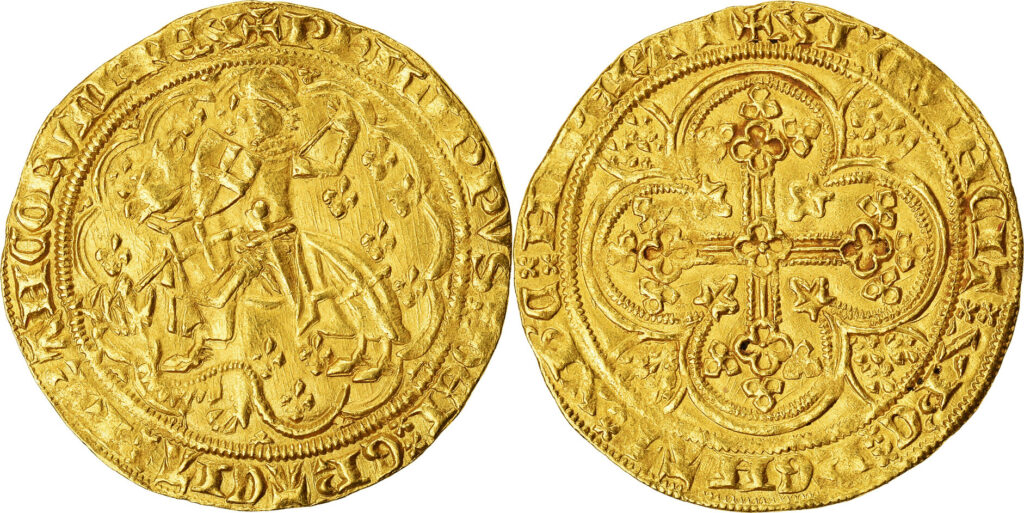 24 Livres, La Convention Paris, 1793
On the obverse is the standing winged genius writing the Constitution, and on the reverse 24 Livres value shown in wreath. This magnificent copy graded PCGS AU58+ with preserved sublime reliefs and a striking shine is in a rare state of conservation. Offered at $12,918 (USD).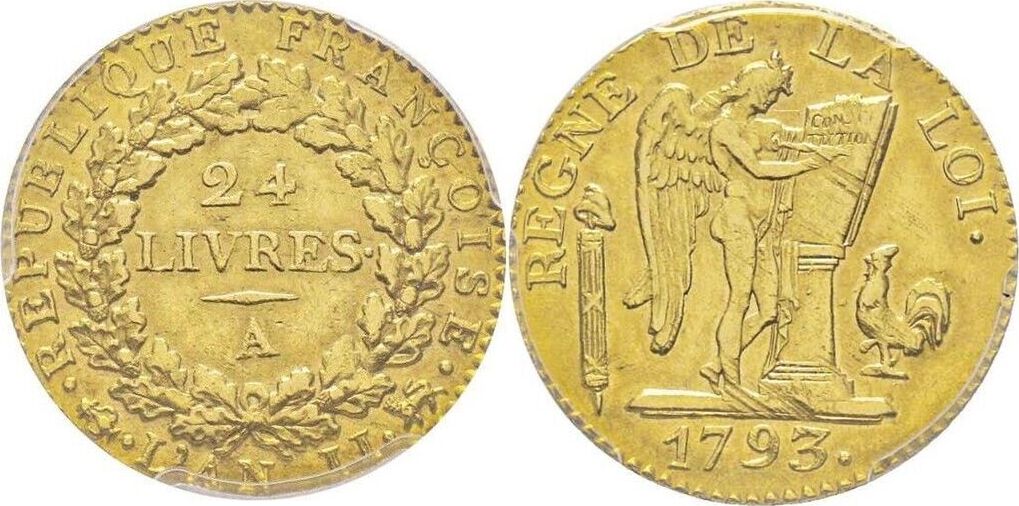 Louis the Pious, Solidus, 830-850
Extremely rare and sought after Frisian imitation for the solidus of Louis the Pious. Flan slightly veiled at 9 o'clock. Very fine gold coin with wide and thick flan. Offered at $28,680 (USD).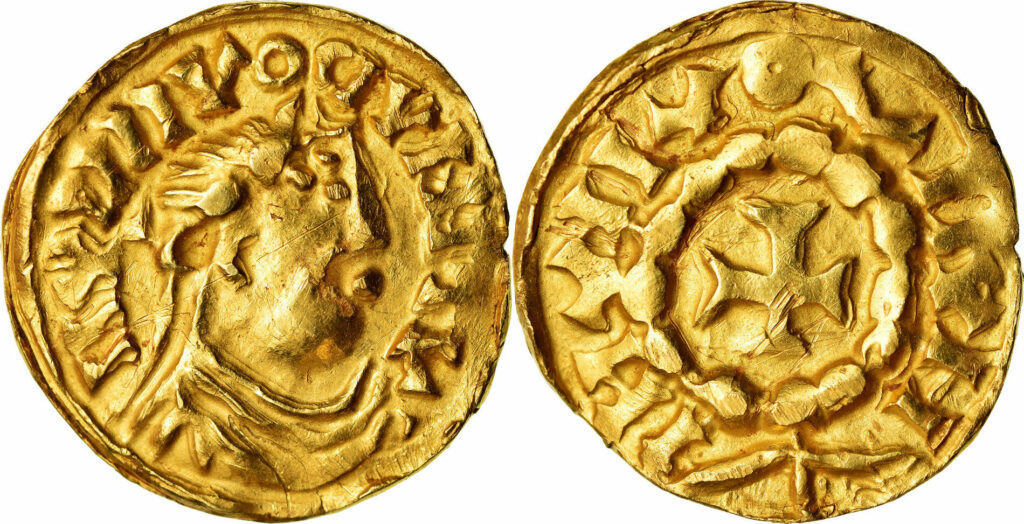 1000 Francs Banknote, 1878 AU(50-53)
Rare banknote features two female allegorical figures at left, right, top and bottom center. Offered at $25,320 (USD).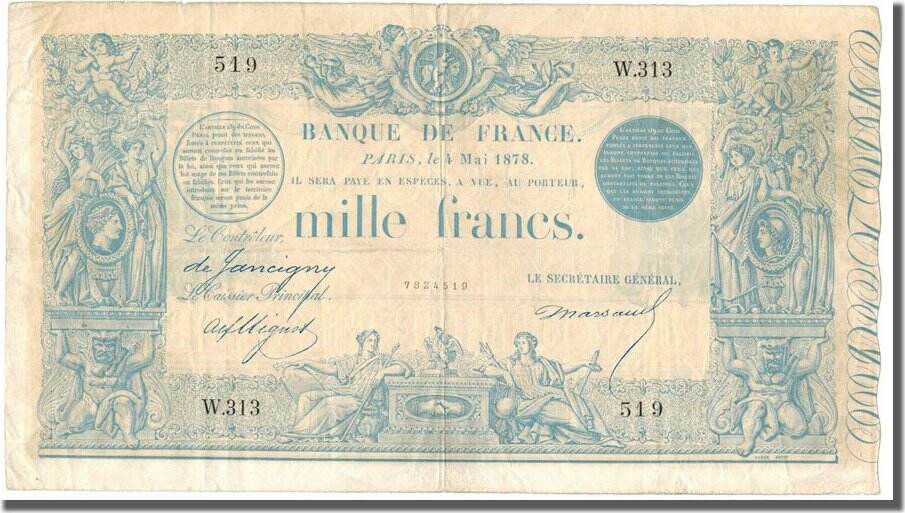 5000 Francs Banknote, Marianne Specimen, 1945 UNC
Watermarked specimen, unperforated and without the SPECIMEN stamp in the center. Delarue overprint, specimen n°14. Pencil annotation: Sea blue B.5701. Offered at $7,595 (USD).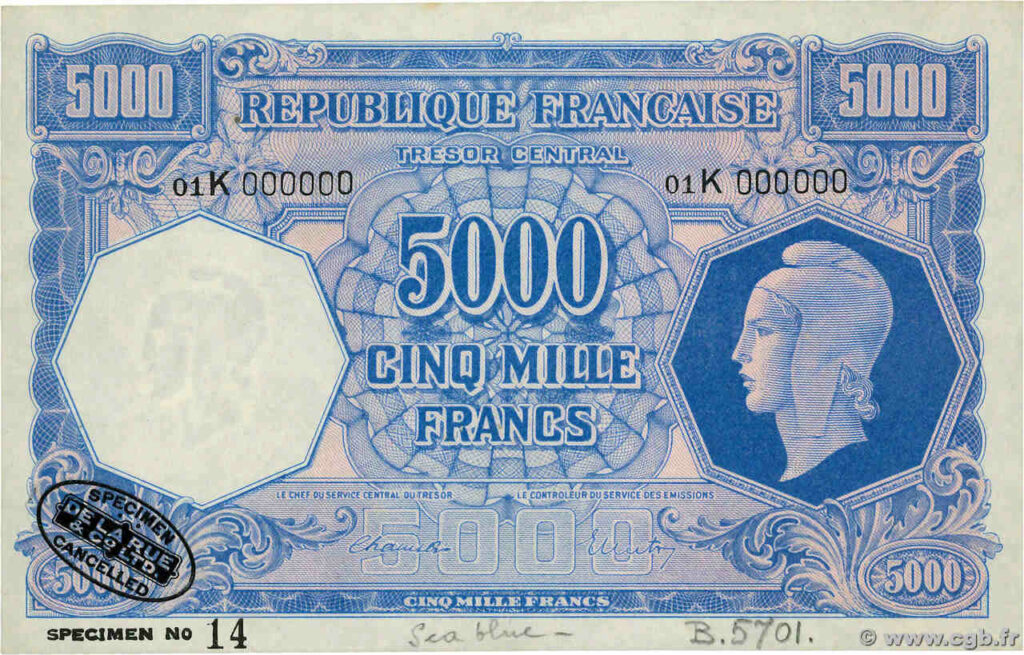 More than 83,000 French coins and banknotes are offered on MA-Shops: https://www.ma-shops.com/france/
---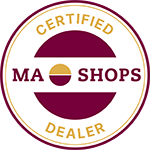 MA-Shops.com, the world's most trusted numismatic marketplace, features coins and dealers from around the world on one, easy to use platform. Collectors can buy with confidence knowing all ancient, U.S., modern and world coins, medals, banknotes, militaria and antiquities offered on the website are guaranteed. Founded in 2005 by Joachim Schwiening, the company has offices in Germany and Florida. MA-Shops memberships and affiliations include: ANA, FUN, NGC, PAN, PCGS and PMG.