We are proud to show you some of our new added US banknotes on MA-Shops.com – The World's Most Trusted Numismatic Marketplace
As you probably know, we offer a great assortment of US banknotes and we will highlight some of these banknotes, to make you aware that you should not miss this opportunity.
For example this US 1886 $5.00 Silver Certificate (large)  with the portrait of  Ulysses S. Grant or the Federal Reserve Note (small) 1934B $100.00 can be just the one that you still miss in your collection.
Curious about the certified dealers who offer these beautiful banknotes? Please take a look in our US banknote category, just follow the link https://ma-shops.com/s/mc7421
23,750.00 US$
Grade: XF45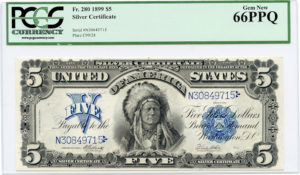 12,250.00 US$
Catalog: 280
Elliot-White
3,325.00 US$
Grade: PMG MS64
1,285.00 US$
Grade: MS63
1,350.00 US$
Catalog: 1551
Grade: PMG
A fresh, bright example of the only $100 Red Seal.
OPEN YOUR MA-SHOP and sell to 300.000 collectors

Items listed on marketplaces and search engines, Google & Co.
Marketing Tools, dedicated MA-Shops Support
Email Campaigns
Multi Language, English, French, German, Dutch, Spanish, Italian, Russian, Chinese
Feel free to contact us here