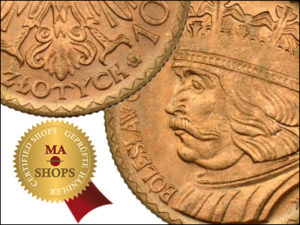 MA-Shops presents the "Coin of the Day".
"To live is the rarest thing in the world. Most people exist, that is all." —Oscar Wilde.
Go out, look around and live! Take the oppurtunity to give yourself a little credit and see this fabulous 10 Zlotych from 1925, presenting Bolesław I the Great, who ruled as King of Poland and Duke of Bohemia. A very fine exemplar and not the only grand Zlotych in our polish gold assortment… for more clik the link and visit us.