New Guinea
New Guinea (An island near Australia) was by the Germans officially taken over in 1885 and at the same time transferred the sovereignty of the New Guinea Company. From 1899, the German Empire was given sovereignty over New Guinea. The company had previously stamped coins. It was the embossment.
The following coins were minted: 1, 2 and 10 Pfennig in bronze. 0.5, 1, 2 and 5 marks in silver with the year 1894 and 1895 still 10 and 20 New Guinea Mark in gold.
The coins were minted in Berlin with the mintmark: "A".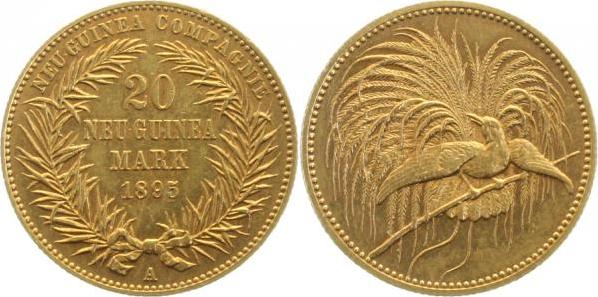 20 Mark Gold 1895 A New Guinea including Expertise EF
Grade: EF       Catalog: JN 709
For the picture, the bird of paradise was taken as a motif. This has created one of the most popular types of coins in the world. Already in the year 1900 were paid by collectors premium, because the coins had already disappeared in the circulation. The circulation of the 20 Mark gold coin was only 1500 pieces. The piece offered here is in the Extra Fine preservation and is offered with authenticity by Franquinet.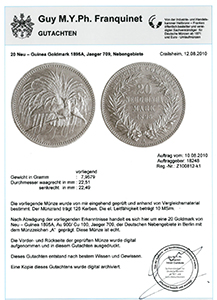 Certificate 20 Mark Gold 1895 A New Guinea
Visit the shop
https://www.ma-shops.com/franquinet
About MA Shops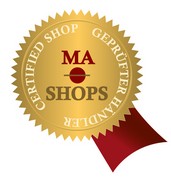 MA-Shops is an internet marketplace headquartered in Europe that works with a network of coin dealers to sell coins, paper currency, medals, military directly to the collector. Founded by Joachim Schwiening, MA-Shops offers a wide variety of Ancient, Modern, World and US coins.
Collectors and dealers can shop confidently knowing that every MA-Shop dealer is committed to 100% safe and reliable transactions.