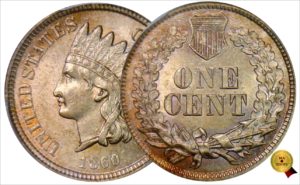 MA-Shops presents the "Coin of the Day"
Trust the process. Your time is coming. Just do the work and the results will handles themselves.
This might was the thought of this little fellow, when his original value raised up to something special. See this nice Indian Head Cent from 1860. Framed with oak wreath and shield designed by James B. Longacre and actual rated by PCGS with MS-64. Visit our further America Collection and click the link.
Hab Vertrauen, deine Zeit wird kommen. Mach einfach weiter und es ergibt sich von selbst.
Dies könnte sich auch dieser kleine Geselle gedacht haben, als sich sein Wert in etwas besonderes gesteigert hat. Schauen Sie sich diesen wundervollen "Indian Head Cent" aus dem Jahre 1860 an. Gerahmt von Eichenblättern und geziert mit dem Schild, designt von James B. Longacre und aktuell von PCGS mit MS-64 bewertet! Besuchen Sie unseren Link und sehen Sie weitere schöne Stücke für Ihre Amerikasammlung.