Coins minted during the time of Sulla 85-79 B.C. – Part 1 of 2
It seems appropriate to introduce myself in my first blog on MA-Shops. My name is Joël van Dam and I am the owner of the coin business Joelnumismatics. I am a dealer in ancient, medieval, and worldcoins and beside this I give numismatic advice and write numismatic texts. Ancient coins have my biggest interest and I am fascinated by ancient history in general. This interest resulted in my study choice. I study ancient cultures of the Mediterranean world at the University of Leiden ( the Netherlands). Here I prepare myself for an academic career in ancient numismatics next to my numismatic business career. I get a lot of satisfaction by telling people about the historical context of coins. For me a coin is more than a piece of metal, it can always tell something about the period it was minted in. The stories these coins tell us are stories I would like to tell you in the coming MA-blogs. I am completely open for suggestions about subjects for the next blogs. Furthermore, you can always send me an e-mail with questions about the blog you have read. The reader should keep in mind that these blogs are written with the aim of spreading of numismatic information and not for academic purposes.
The topic of this blog is about coins that are minted during the time of Sulla 85-79 B.C.. Something new happened in the iconography of the coins during this period. A new tradition seems to appear!

Denar L. Cornelius Sulla
Roman Republican Coins, L. Cornelius Sulla, 84-79 BC, Denarius 81 BC, Military mint. 3,90 g.
Diademed head of Venus right / Double cornucopiae, below Q. Cr.375/2; Syd.755. lovely portrait of Venus., The head of Venus refers to the position of Venus as Sulla`s patron deity., extremely fine, pressure mark on obv. 
The Social War in Rome came to an end in the year 88 B.C,. but the problems didn't vanish in the political landscape of Rome. In this time a new man stood up. His name was Lucius Cornelius Sulla Felix or as most of the people now him: Sulla. Sulla was a military leader in Rome who was asked to go on campaign against Mithradates from Pontos. Marius, a powerful opponent of Sulla, disagreed with this decision of the Senate because the campaign would lead to much honour and wealth for Sulla. Because of Marius' thoughts the Senate changed his mind. Sulla was furious about this and came to Rome with his army where he tried to intimidate the Senate and probably tried to assassinate Marius. Marius fled on time and after that , Sulla restored the order and the Senate in Rome. The Senate agreed again with the campaign against Mithradates from Pontos under the leadership of Sulla. Sulla came back from this campaign in 82 B.C. and had a great success during this campaign. In the time that Sulla was on campaign Marius came back to Rome and the Senate was full of populares. Sulla's return to Rome had a big impact on the politics of Rome. His prestige, the patronage relations with him and his military power lead to a big alliance against the populares in Rome. This opponent group of the populares was called the optimates. This alliance overwhelmed the populares which lead to the fact that the Senate was ruled by the optimates in a short period of time. The Senate asked Sulla to become Dictator for a unknown period of time, and of course he did. His task was to reorganize the institutional structures of Rome. He did what he possibly could do and three years later he resigned. It seems that Sulla's immense power in Rome also had a reflection on the coins that were minted during the period between 85-79 B.C.. One thing stands out immediately on coins during 85-79 B.C.. During this time there are a lot of attestations to the goddess Venus on the coins. Out of all the coins that are minted between 110-44 B.C., 17 out of 20 are minted during 85-79 B.C. or between 54-44 B.C.. Only the first period will be discussed here but the other period can be linked to the rise of Julius Cesar who had a special relationship with Venus.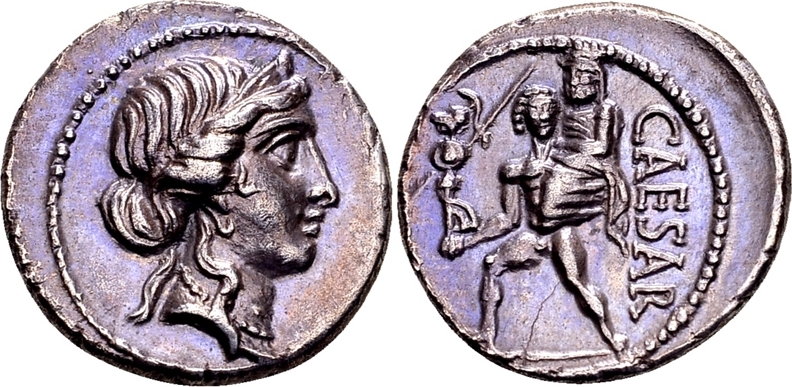 Denarius 47-46 BC. Roman Republican G. Julius Caesar
Military mint with Caesar in North Africa. Obv: diademed head of Venus to the right. Rev: CAESAR in right field; Aeneas walking left, carrying Anchises and palladium. Lovely iridescent patina, high relief.
End Part 1 of 2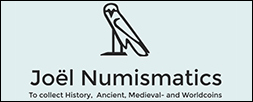 Visit the shop https://www.ma-shops.com/joel
OPEN YOUR MA-SHOP and sell to 300.000 collectors
Items listed on marketplaces and search engines, Google & Co.

Marketing Tools, dedicated MA-Shops Support

Email Campaigns

Multi Language, English, French, German, Dutch, Spanish, Italian, Russian, Chinese