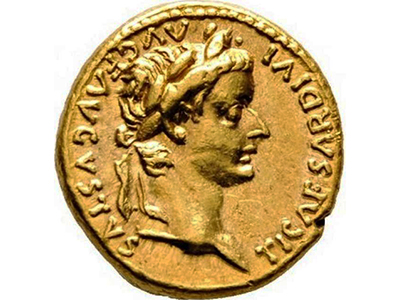 An attractive coin with a beautiful appearance. On the obverse the laureled head of Tiberius to the right with the inscription: TI CAESAR DIVI – AVG F AVGVSTVS.
Seated Livia with scepter and branch on Sella
Inscription: PONTIF – MAXIM.
Offered at
8,143.57 US$ / 6.995,00 EUR
Second Roman Emperor
Tiberius was the second Roman emperor after his stepfather Augustus.
At first it looked like one of Tiberius' step brothers would become Augustus' successor, because in 6 BC Tiberius withdrew from politics, left Rome and retired in Rhodes.
But as the years went by his two step brothers died and thus Augustus let Tiberius come back to Rome and adopted him. Now Tiberius was the rightful heir of Augustus and became Roman emperor after Augustus' death. Not only as emperor but also before that he took part in the expansion of the Roman Empire.
22,000.00 US$
Weight 7,79 gr. – Diameter 18mm
Pontif Maxim
Catalog: Cohen 15 | RIC 25 (R2) | BMC 30 | Sear 1760 | Calicó 305 R
Obv. Laureate head of Tiberius right, surrounded by the legend
TI CAESAR DIVI AVG F AVGVSTVS
Rev. Female (Livia as Pax?) seated right on chair, holding sceptre and olive-branch, PONTIF in front, MAXIM behind.
Following a series of early issues honouring Divus Augustus and Tiberius' military triumphs, the mint at Lugdunum settled upon striking one single type: 'Pontif Maxim'. Numismatists identify the seated figure depicted on this ubiquitous reverse type as Livia, the wife of Augustus and mother of Tiberius, in the guise of Pax, the roman personification of peace.
The type was struck continuously for twenty three years and throughout that time, only minor changes were made to the portrait of Tiberius and the ornamentation of the throne. Despite the vast output of the 'Pontif Maxim' coinage, the significance of the type is not immediately clear – the depiction of Livia as Pax may represent a universal matronly ideal Livia may be intended as the personification of what Seneca the Younger described in AD 55 as the 'Pax Romana' ('Roman Peace'), the period of peace and stability marked by Octavian's victory over Mark Antony at the battle of Actium in 31 BC, which brought to an end to the prolonged period of civil war.
Certainly, during the last decade of the 1st century BC Livia began to appear more frequently in the preserved sources, and L. Brännstedt (Femina princeps: Livia's position in the Roman state) suggests that her role as mater and uxor at this time was becoming an integral part of Augustus' political program, and being made publicly manifest on a large scale.
Brännstedt furthermore asserts that the appointment on March 6, 12 BC of Augustus as pontifex maximus was crucial for the development of Livia's mater-role… Augustus' religious role was identified as that of a father to his family. Strengthening the paternal connotations of Augustus' leadership, the appointment of him as pontifex maximus would also have favoured Livia's impact as mater.
The identification of Livia with Pax therefore strongly associated the imperial family with the continued prosperity of the empire, and hence should be seen as primarily a propagandistic instrument for the reinforcement of the imperial cult.
This coin is actually better in detail than the Roma Numismatics piece. Very faint scratch on the obverse, but wonderful coin of good style and with excellent details. Coin with much lustre. Near mintstate.
5085.00 US$
Weight 7.3 grams – Diameter 19 mm
Catalog: S.463, RIC 25
Lugdunum mint, Lyon struck after AD 16
Obverse: TI CAESAR DIVI AVG AVGVSTVS, Laureate head facing right
Reverse: PONTIF MAXIM, Female figure (Livia?) seated right, holding long sceptre and branch
Some residual lustre in legends and portrait, very fine.
915.00 US$
Catalog: RIC 30
Weight: 3.68 g
Fine patina
About Us: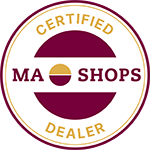 MA-Shops.com, The World's Most Trusted Numismatic Marketplace, offers more than a million ancient, U.S. and ancient coins, along with medals, banknotes, militaria and antiquities. Our vibrant collection is offered by verified and Certified Dealers from around the world. Collectors can search, select and purchase conveniently and confidently knowing every item is authentic and guaranteed. Founded in 2005 by Joachim Schwiening, MA-Shops has offices in Germany and the US.
To become a dealer or for more information, contact us at info@ma-shops.com