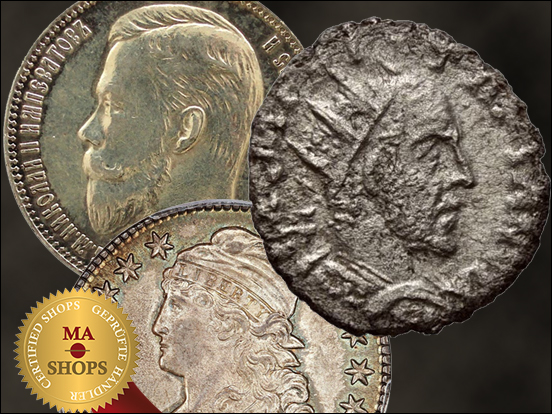 An Old Hobby
In this blog I will discuss the history of coin collection. It is an old hobby with an impressive history and I think this create an extra dimension for the imaging of coin collection in general. And, it feels great to know that what you are doing has a large history and is done in the past by famous and important people.
Coin collecting is a special hobby that can be done by everyone!
Some suggest that collecting coins for their artistic value is as old as coins themselves. It is my opinion that there is no serious evidence that before the Renaissance coin collection was done actively. Because of the curiosity in ancient history in the Renaissance, coin collection became a hobby for the elite and even kings. Because of the rise of this hobby the supply for old coins increased and famous engravers were employed to make medals and imitations of ancient coins.
5,400.00 US$
Weight: 7.78 g
Diameter: 19.00 mm
Lugdunum, AU(55-58)
Catalog: RIC:29
Laureate head right,Livia as Pax, seated right on throne with ornamented legs, holding reversed spear,TI CAESAR DIVI AVG F AVGVSTVS,PONTIF MAXIM
The 17th and 18th Century
It was in the 17th and 18th century that numismatics became a field of research. It was in this period that the first real studies and catalogues were published. This development resulted in public collections and more in more collectors. But collecting was still for the elite. People who were not rich enough needed to spend their money instead of collecting it.
It was at the end of the 18th century and 19th century that the wealth of the middleclass increased enough that it became possible for them to collect coins. And so they did. The first commercial literature about coins were printed in the 19th century. The interest in the type of coins changed from only ancient coins to almost every type of coin and medal from every place and era. This trend continued in the 20th century enormously.
7,875.00 US$
Catalog: RIC 153; BMC 63.
Material: Silver
Weight: 3.62 g
Obv: DOMITI? ?UGUST? IMP DOMIT; draped bust of Domitia to the right, hair in long plait.
Rev: DIVUS C?ES?R IMP DOMITI?NI F; child (Domitian's son?) sitting to the left on globe, arms spread, surrounded by seven stars.
Extremely rare.
1,250.00 US$
Catalog: 2337
Weight: 3.11 g – Diameter: 19.00 mm
Mintage: 6,609
Beautiful fluorescent toning with gorgeous rainbow colors.
Coin Clubs and Coin Collection
The first coin clubs and coin shows emerged. Coin collection became for bigger parts of the population in the west possible and as a result professional coindealers became a fact. Since 1960's coin collection became possible for the largest part of the population. It became a way for discovering the world and history. You must remember that in these days there was no internet. So it was also a nice pastime.
The trends continued until the appearance of the internet. This resulted in a explosion of possibilities and with this the increase of both collectors, dealers and scholars. Nowadays it is possible to buy a coin on the other side of the world and have it in your hands a few days later. This professionalized the dealers, collectors and above all the collections.
1,400.00 US$
Catalog: Y-22
Weight: 11.10 g
Scarce coin and very scarce in top condition.
4,425.00 US$
Catalog: KM# 20
Material: Silver
Weight: 27.06 g
MA-Shops brings Collectors and Dealers together
MA-Shops.com is a great example where all the developments come together. It is possible to buy from great dealers world-wide and to take advantage of their wonderful stocks. In this way you will be able to create a great collection. And this can make you more knowledgeable about numismatic topics.
About Us:

MA-Shops.com, The World's Most Trusted Numismatic Marketplace, offers more than a million ancient, U.S. and ancient coins, along with medals, banknotes, militaria and antiquities. Our vibrant collection is offered by verified and Certified Dealers from around the world. Collectors can search, select and purchase conveniently and confidently knowing every item is authentic and guaranteed. Founded in 2005 by Joachim Schwiening, MA-Shops has offices in Germany and the US. To become a dealer or for more information, contact us at info@ma-shops.com