Within the numismatics there is one general topic that I like the most. I really like to discuss ancient coins and in particular Roman coins. It doesn't matter to me if I have to talk about coins from the early Republic or about coins minted at the end of the Empire. In this blog I want to discuss some topics about one of the most famous emperors of the Roman empire. At least for most people in the modern world.
This emperor leaves a lot to the imagination for a lot people nowadays. Why? Because he's famous for his failing policies, crazy auctions and probably for setting Rome on fire. Of course, this blog is about Nero.
16,250.00 US$
Weight 7.50 gr. – Diameter 19mm.
Catalog: Cohen – (cf.4) | RIC 82 | BMC 79
Obverse. Laurated head of Claudius right TI CLAVD CAESAR AVG GERM P M TRIB POT PP
Reverse. Bare-headed and draped bust of young Nero left NERO CLAVD CAES DRVSVS GERM PRINC IVVENT
7,100.00 US$
Weight: 7.63 g
Catalog: RIC 14; BN 20; BMCRE 15; Calicó 424
Obverse: NERO • CAESAR • AVG • IMP, youthful bare head right \
Reverse: TR • P • IIII • P • P • PONTIF • MAX • around wreath enclosing EX SC VERY RARE Ex Monsieur Note (1910-1982) Collection, France
The Childhood of Nero
Nero was born in Antium on the west coast of Italy. Emperor Caligula was also born here. Nero was the son of Gnaeus Domitius Ahenobarbus and Agrippina the Younger. The latter was the sister of Caligula. Due his maternal family line he was the great-great grandson of the first emperor of Rome: Augustus. This helped him later to legitimate his position as an emperor. Nero became emperor of Rome in 50 due the influences his mother had on Emperor Claudius as his wife.
His mother persuaded Claudius to adopt Nero, and he did. After the dead of Claudius, who died of poisoning (highly possible direct or indirect by Nero's mother Agrippina), Nero was the only legitimate heir of the throne and became Emperor at the age of 16.
In his first years he was guided by his mother and his tutor the famous Seneca. After the matricide in 59 by Nero his policies start to change. Why he killed his mother is uncertain but possibly he no longer wanted to follow his mother's ideas.
After the dead of his mother the decline of his rule became assured. He was no longer enough interested in ''normal'' emperor businesses but he spent almost all his time in art, music, and plays.
1,575.00 US$
Weight: 27.00 g – Diameter: 35.00 mm
Catalog: Cohen 308; RIC 147; BMC 187
Obverse: NERO CLAVDIVS CAESAR AVG GERM P M TR P IMP P P, laureate bust right wearing aegis.
Reverse: S-C, Nero's triumphal arch, surmounted by quadriga, statue of Mars between columns.
Nero's Decisions
The decisions that he made were most of the time bad and were doomed to fail. The most absurd thing he did was setting fire to a large part of Rome. Because of his wicked actions, policies and immoral leadership some revolts occurred in the Roman empire in 68. Due these events the Senate wanted to dismiss him as emperor. When they wanted to arrest him, Nero killed himself by stabbing himself in the throat. His last words would have been" Qualis artifex pereo'' . Which means ''which artist wants to die with me?''.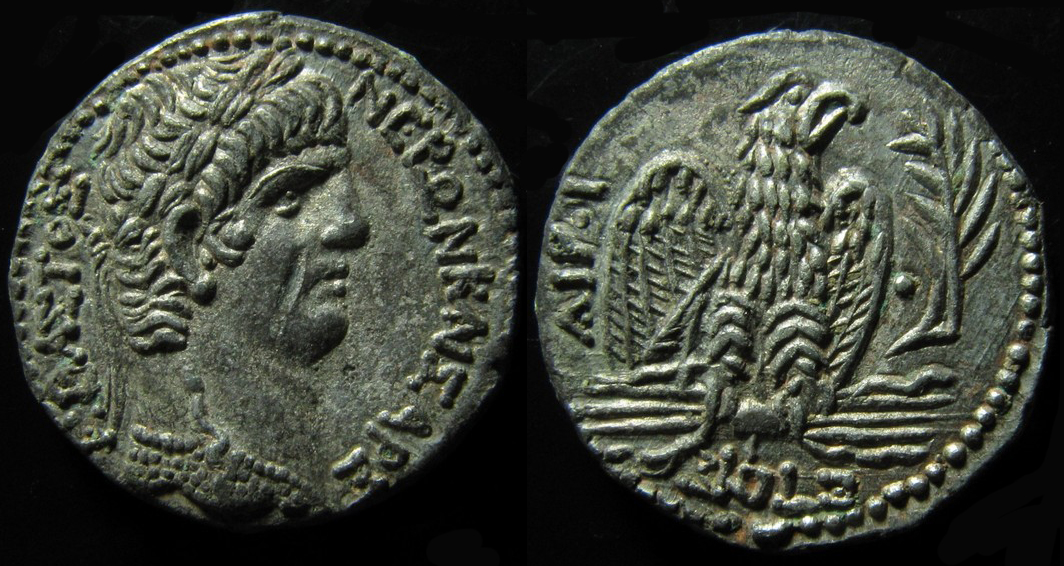 1,575.00 US$
Weight: 14.78 g – Diameter: 26.00 mm
Catalog: RPC I 4186
Obverse: ???O? ???S?? S???S??S, Laureate bust right, wearing aegis
Reverse: ????S ??? I , Eagle standing right on thunderbolt. Pellet and palm branch right in field.
Nero Coins on MA-Shops
MA-Shops has a lot coins in their database form Nero. In all qualities, denominations and prices. So if you are looking for a coin from the famous emperor Nero you will definitely see a coin that you like in their database.
For example this great aureus. This aureus is certificated by NGC in the quality AU(50-53). This aureus has on the obverse the head of Nero in a high-relief and the text NERO CAESAR AVG IMP. The portrait of this coin is a real piece of art. On the reverse you can see Roma, the deity who was a personification of the City Rome. She is usually illustrated on coins with a helmet and military items, as on the aureus. The text on the reverse is ,PONTIF MAX TR P X COS IIII P P. This were the titles from the emperor. This coin will absolutely be a jewel in your collection.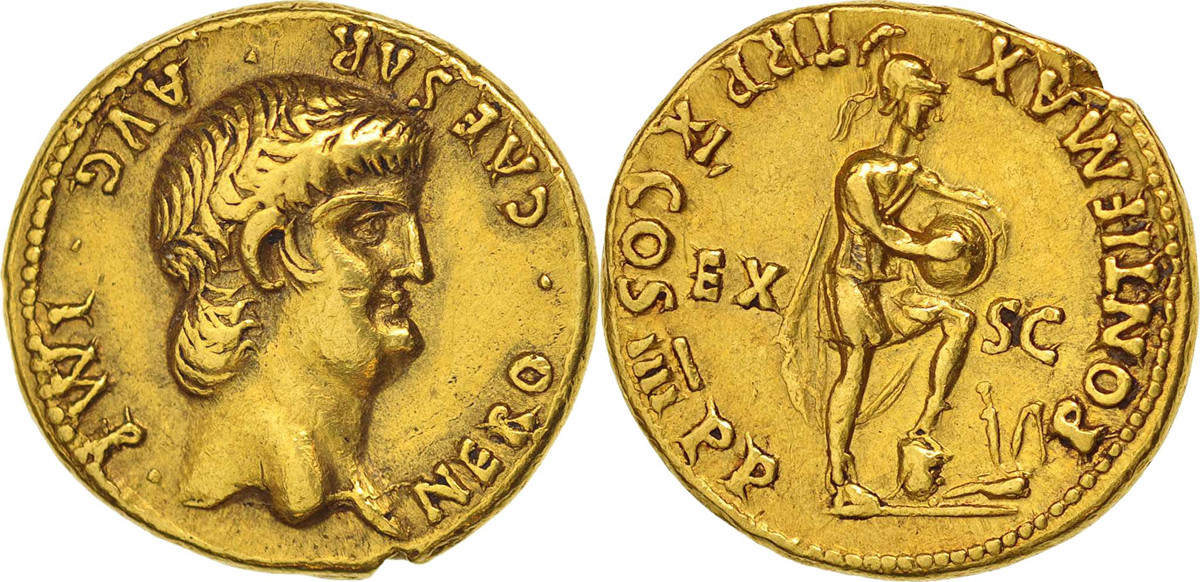 17,900.00 US$
Weight: 7.67 g – Diameter: 19.00 mm
Catalog: RIC:42
Bare head right,Roma standing right, inscribing shield held on knee, foot on helmet, EX SC at sides,A very rare exemplar, well-struck, with attractive portrait of the emperor in high relief, covered with a nice ancient patina,NERO CAESAR AVG IMP,PONTIF MAX TR P X COS IIII P P
NGC certificate number: 3993182-003
The Influence of his mother Agrippina
Another example is this Tetradrachm that was minted in Pieria Antiochian and Orontes. This coin was minted in 56/57. This coin shows perfectly the power of the mother of Nero, Agrippina. It was not common that a woman was depicted on a coin. She was one of the first woman who appeared on a coins in Rome. She must have had a lot of power. Because she could break the coin tradition. This coin is very interesting for everyone who loves historically significant coins.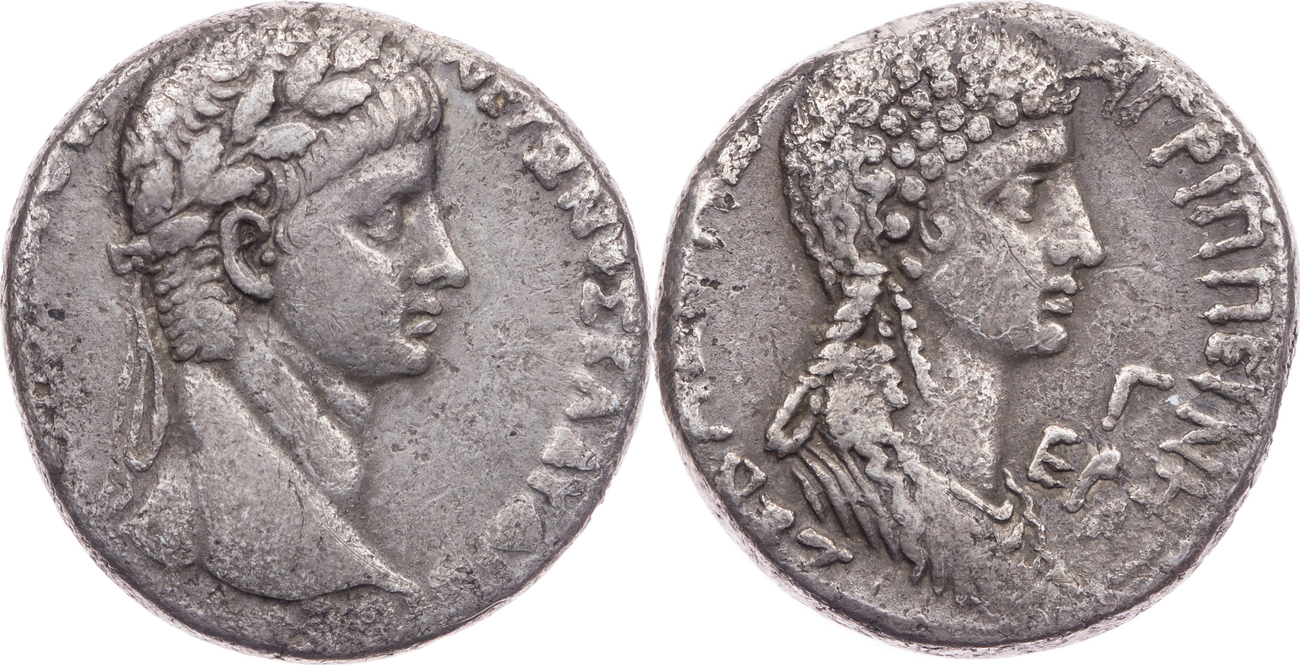 725.00 US$
Weight: 14.23 g
Catalog: RPC 4175; Prieur 74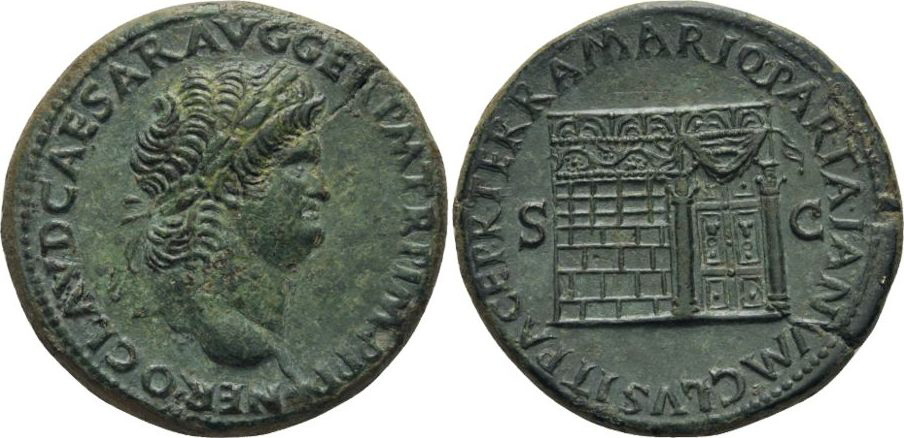 4,450.00 US$
Weight: 25.48 g
Catalog: RIC 354
Find more Nero coins, follow the link https://ma-shops.com/s/mc909
Do you want to read about another topic in a next blog? Please contact MA-Shops and maybe I will write about it a next time. I hope you enjoyed this blog and you will find your coin from the interesting emperor Nero.
Written by Joël van Dam, Owner of Joëlnumismatics.
OPEN YOUR MA-SHOP and sell to 300.000 collectors

Items listed on marketplaces and search engines, Google & Co.
Marketing Tools, dedicated MA-Shops Support
Email Campaigns
Multi Language, English, French, German, Dutch, Spanish, Italian, Russian, Chinese
Feel free to contact us here