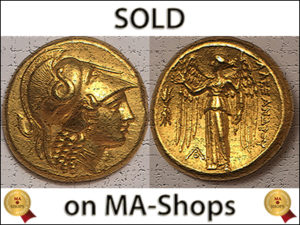 Ho, Ho, Ho.
MA-Shops is an internet marketplace headquartered in Europe that works with a network of coin dealers to sell coins, paper currency, medals, military directly to the collector. Founded by Joachim Schwiening, MA-Shops offers a wide variety of Ancient, Modern, World and US coins.
First some recent sold coins today and feel free to search on MA-Shops. This week a huge selection with PCGS graded Greek coins were listed new. Furthermore a new dealer from Greece, ANG from Athens, starts selling via MA-Shops, nice stuff!
If you find the right coin, currency or numismatic book, order it via MA-Shops online, collectors and dealers can shop confidently knowing that every MA-Shop dealer is committed to 100% safe and reliable transactions. (About selling on MA-Shops see information below on this site)
---
Some beautiful coins sold on MA-Shops
AV Distater 325-323 BC Makedonien / Macedon Alexander III. 336-323 BC EF
Amphipolis mint. Life time issue; struck circa 325-323 BC. Head of Athena right, wearing crested Corinthian helmet decorated with serpent, single-pendant earring, and two necklaces). Nike standing left, holding wreath in extended right hand and cradling stylis in left arm; vertical thunderbolt in left field, Monogram below left wing. Beautiful and rare, well centered with high relief. This one of the most beautiful exemples sold in recent time. Insignificant scratches.
---
Golden ducat 1642 Josse (Justus) Maximiliaan van Bronckhorst Very fine
Grade: Very fine, Catalog: Delm. 230; RBN 1851, p. 375 en 1914, p. 35; Fr. 86h; Lucas 68;
Gronsveld Extremely rare!
Obv. The coat of arms divided into four quadrants with heart shield.Arms of Bronckhorst in 1st and 4th quadrant; arms Batenburg in 2nd and 3rd quadrant; Gronsveld-Eberstein in the inescutcheon, small date left, right and above crown ? MO· NO· AV· IVST· MAX· C· A· BR· IN· GR.
Rev. 4-line text and arabesque above IVSTVS / VT· PALMA / FLORE / BIT. Legend ? ET· EB· L· B· IN· BAT· D· IN· ALP· ET· HON. (titles of Bronckhorst, Gronsveld, Eberstein, Batenburg, Alpen and Honnopel)
---

100 Kronen 1923 Austria CH UNC
Catalog: Fb 433 – ANK 2        Material: Gold, Weight: 33.88 g                      Fineness: 900 ‰ (30.49 g fine), Diameter: 37.00 mm              Mintage: 617
One of the rarest Austria gold coins in top condition.
---
10 Taler 1783 IEC Saxonian Albertine Line Friedrich August III.
Grade: VF / EF                       Catalog: Fb 2875
Weight: 3.31 g                        Diameter: 28.00 mm
Obv. Head to the right
Rs. Crowned coat of arms in oval shields, value and date.
Tiny edge error
---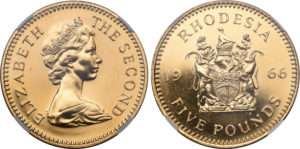 1966 Rhodesia 1966 Gold Set Proof
Grade: Proof
KM-PS3. Queen Elizabeth II. Reserve Bank of Rhodesia issues, struck at the South African Mint. A remarkable set with a equally remarkable story. Apparently the sets were issued and made available to the public from 11 November 1966. This must be one of the very first struck and posted to a Mr.C.F.Brimblecombe in Salisbury (now Harare) with postage date 18 November 1966 just a week after they were made available for anyone to buy, still in the original SAM package complete with the Mint's papers and COA. Probably stored shortly after, the inside top white cloth of the box has the incuse imprints of the coins on it!!! A superb FDC-as struck Set.I have included a number of images from the bundle.
---
OPEN YOUR MA-SHOP and sell to 300.000 collectors

Items listed on marketplaces and search engines, Google & Co.

Marketing Tools, dedicated MA-Shops Support

Email Campaigns

Multi Language, English, French, German, Dutch, Spanish, Italian, Russian, Chinese