At first, I want to formulate the hope that everyone is healthy and will be safe in these impressive times. Corona has influenced the live of all of us, mostly negatively. I hope that everyone will find the strengths to do the right things everyday during this crisis.
A light during these times can be our passion. We can work with our collection, search for new coins and banknotes, do research about our interests and read a lot of books about it. Did you know a lot of numismatic books can be found on MA-Shops? To find these books, just follow the link: https://www.ma-shops.com/shops/search.php?catid=415
In this blog I will show some highlights in the MA-Stock, in particular the banknote highlights. Collecting banknotes is a popular part of the numismatic world. The last decade it became more and more popular especially among the younger part of the collectors. I believe the reason for this development is the variety in banknotes. Every banknote is like a painting. An album full like a gallery. It takes another kind of effort to enjoy a coin or coin collection with all the same types but different years.
Banknotes like a painting:
8,250.00 USD
Pk 84s1 and serial number O.000
A wonderful and well centered example of this highest denomination, featuring elephants and water buffalos and the four faces of Bodhisattva Avalokitesvara in Angkor Wat. Extremely rare.
1,945.00 USD
Signature title: LE CAISSIER GÉNÉRAL.,Statuette in rotogravure.
Woman with Victory statuette and olive branch at center.
Rare 50 Gulden 1943
The banknote I want to discuss is this rare 50 gulden 1943. A rare banknote in a typical and highly possible recognized design. This issue is part of the so-called Netherlands liberation issue. It was necessary for the liberation forces during the second world war to carry a currency into the country that was not related to the oppressor. The issue was printed by the American bank note company at the direction of the Dutch government that was in exile. The style seems related to the dollar banknotes. On the front you can see a portrait of queen Wilhelmina. On the back the crown symbol on the back.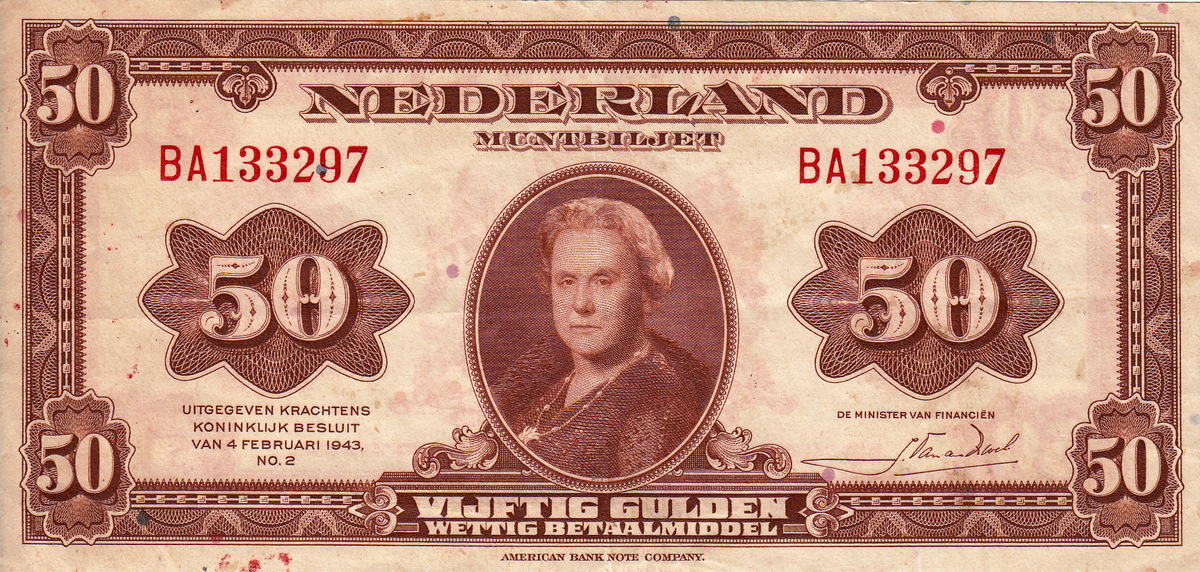 2,115.00 USD
Catalog: M.98-1
I think MA-Shops is the biggest platform in the world that offers so many banknotes from reliable sellers from all over the world. Extremely rare banknotes can be found, banknotes that you will not see soon again. But also, very affordable banknotes for sharp prices. There are also a lot of US Banknotes offered by the certified dealers. Here below we show you some of them. You always find a banknote you like on MA-Shops.com – The World's Most Trusted Numismatic Marketplace.
Special US banknotes:
17,950.00 USD
Catalog: FR. 2407
With the signatures of Woods and Mellon displaying serial number A00018038A. Graded 40 Extremely Fine by PMG. Gold Certificates are highly collectible in any grade. Desired by numerous collectors, but very difficult to find, especially in this grade.
22,750.00 USD
Catalog: FR.1700
Julian-Woodin. Only 216,000 issued. Scarce in any grade. The key to the Silver Certificate $10 issues.
4,275.00 USD
Catalog: FR. 537
Serial Number: L55291
Written by Joël van Dam, Owner of Joëlnumismatics.
About Us:

MA-Shops.com, The World's Most Trusted Numismatic Marketplace, offers more than a million ancient, U.S. and ancient coins, along with medals, banknotes, militaria and antiquities. Our vibrant collection is offered by verified and Certified Dealers from around the world. Collectors can search, select and purchase conveniently and confidently knowing every item is authentic and guaranteed. Founded in 2005 by Joachim Schwiening, MA-Shops has offices in Germany and the US. To become a dealer or for more information, contact us at info@ma-shops.com