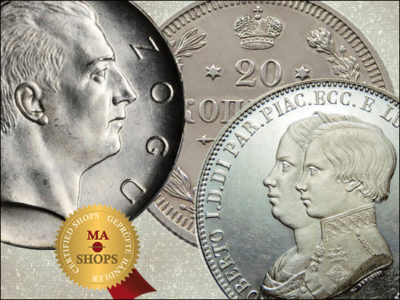 Coins with different grades
The question that is formulated in the title of this blog is a question that most collectors and dealers will naturally respond with the phrase: ''Yes, it is an important''.
It is not my purpose in this blog to advocate that quality is not important but to nuance the statement most dealers and collectors will give. The beauty of the coin seems to be very tight linked with his quality. Since people feel attracted to beauty, the quality of a coin has influences in the how many people want a specific coin. And of course this has his influences on the price.
Shakespeare wrote in Love's Labours Lost, 1588:
''Good Lord Boyet, my beauty, though but mean, Needs not the painted flourish of your praise: Beauty is bought by judgement of the eye, Not utter'd by base sale of chapmen's tongues''
This is of course a beautiful and almost poetic way to say that beauty is in the eye of the beholder. And I think in some way this is true, even though I think objective beauty exists. Unfortunately, this blog is not the place to write a philosophic essay about beauty. Nevertheless, for this blog it will be enough to accept that beauty itself exist whether its nature is objective of subjective. And I think most people will.
Here below, some examples of coins in different qualities.
267,500.00 US$
Diameter: 21.60 mm
Mintage: 20
1875 was a Magic Year of Rarities as many under-appreciated rarities were produced in the year for both circulation and proof strikes. From a mintage of just 20 pieces, probably fewer than 6-7 examples are known. This piece exhibits beautiful Cameo mirrors with the brightest of yellow-gold surfaces. Overall this piece is truly a quality example of an underrated, great coin! Only a single example (Proof 65 Deep Cameo) is graded finer.
76,200.00 US$
The rarest type of all German Imperial gold coins.
Quality and beauty
The quality of a coin is important. But when does a coin start to have the disposition to be beautiful? Is only a coin in the quality mint-state worth to buy because of his quality? Or is a coin good enough when we can read the words on it and we can see his images? Or some were in between? It seems that this question is very hard to answer. And to be honest I can not give you an objective answer like: '' only coins in mint-state a worth buying for their quality''.
I collected Duiten from the Netherlands for a long time. I collected them in a very fine state. And, I love their beauty. I also collected copper coins from the Netherlands between 1900 and 2000. I only enjoyed them when they were in a high mint-state. So, it seems that even for one person the border between beauty and not beauty is the same.
2,875.00 US$
Joao VI Prince Reg
4,300.00 US$
Catalog: KM-18.
George V. Cyprus under British administration. The last year of issue for the type (in Bronze) and very rare. Only two coins have graded mint state in pcgs's population a 63 and this one. The single second highest graded (pop1). Grades MS61
Most important for the coin collector
What follows from this is the collector himself as a person and not the group-collectors as a whole, determine what quality he can or maybe even will enjoy. I tell my customers two things. The first derives from the conclusion above. You (the collector) are the one who says what you can enjoy. And this is most important in collecting. Secondly, I say this. It is generally accepted that quality is important for the beauty of a coin. What follows from this is that the higher the quality the more people start to like a coin which increase the value and the changes of potential profit in the future. But when you have the wonderful ability to appreciate every coin on its own for its beauty you don't have lower values then others you just see them differently. Because never forget there is more than quality in a coin. It is important but their also their historical value which you can enjoy.
5,650.00 US$
Catalog: KM# 8.2
Superb Brilliant Uncirculated.
Written by Joël van Dam, Owner of Joëlnumismatics.
MA-Shops brings Collectors and Dealers together
MA-Shops.com is a great example where all the developments come together. It is possible to buy from great dealers world-wide and to take advantage of their wonderful stocks. In this way you will be able to create a great collection. And this can make you more knowledgeable about numismatic topics.
About Us:

MA-Shops.com, The World's Most Trusted Numismatic Marketplace, offers more than a million ancient, U.S. and ancient coins, along with medals, banknotes, militaria and antiquities. Our vibrant collection is offered by verified and Certified Dealers from around the world. Collectors can search, select and purchase conveniently and confidently knowing every item is authentic and guaranteed. Founded in 2005 by Joachim Schwiening, MA-Shops has offices in Germany and the US. To become a dealer or for more information, contact us at info@ma-shops.com