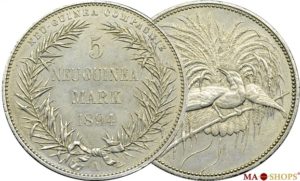 MA-Shops presents the "Coin of the Day"
PAR · A · DISE = /pærəˌdaɪs / heavenly; blissful place of extreme beauty, delight of happiness…
Check out this "newly in" incredible 5 Mark Deutsch-Neuguinea made 1894 with 23.000 coins. Minted in silver this beautiful, almost extinct bird of paradise dazzles from this stunning eye-catcher. See more of our new arrivals on our website and click the link below.
PA · RA · DIES = /paʀaˈdiːs/ Garten Eden; Ort der Seligkeit, der Freude…
Sehen Sie hier "Neu eingetroffen" 5 Mark Deutsch-Neuguinea aus dem Prägejahr 1894 mit einer Gesamtauflage von 23.000 Stück. In Silber geprägt schillert hier, der nahezu ausgestorbene Paradiesvogel von dieser wunderschönen Münze. Begrüßen Sie weitere Neuankömmlinge bei MA-Shops und klicken den Link.