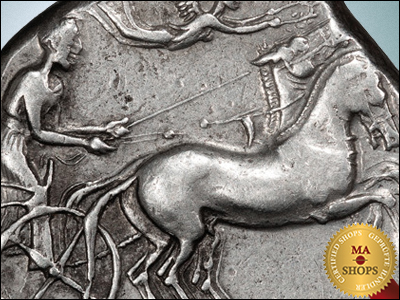 Welcome to MA-Shops, the world's most trusted online coin and paper money marketplace.
Founded in 2005 by Joachim Schwiening, MA-Shops offers collectors and enthusiasts access to nearly 1 million rare and important ancient and modern coins, medals, banknotes, militaria and other collectibles.
All items are offered by certified dealers, screened by MA-Shops.
Today, we want to present you some spectacular ancient coins in gold, silver and bronze. Of course, we have a lot of ancient coins at MA-Shops.com but we want to highlight these selection of grandiose coins. Take a look and be surprised! For more recently added ancient coins, just click here.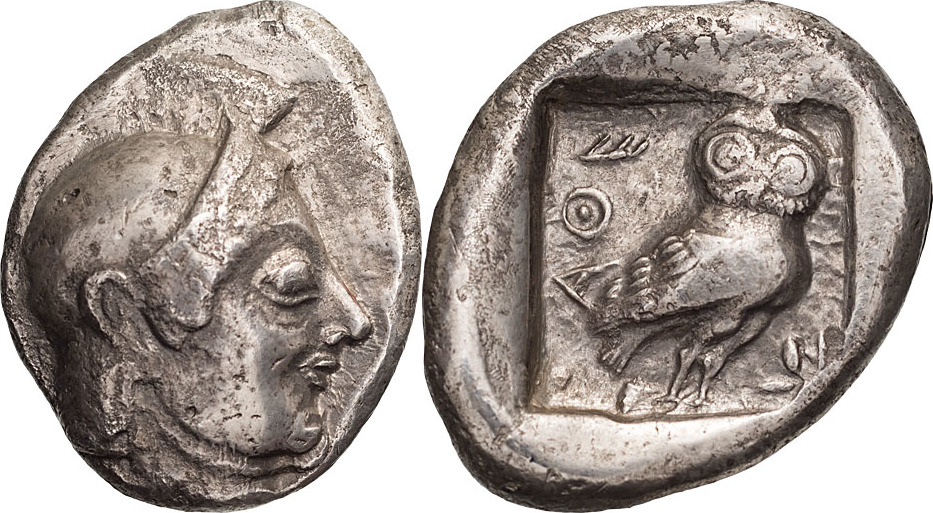 36,750.00 US$
Material: Silver
Weight: 17.28 g
Catalog: Seltman-296 (A194/P242); Svoronos-pl. 6, 7.
Obv: Helmeted head of Athena r. Rx: Owl standing r., head front; ATE downwards on left, two olive leaves with olive at lower right, all in incuse square. From the same obverse die as Babelon pl. XXXV, 1.This is one of the earliest issues of Athens showing Athena and her owl. The civic mint was named by Seltman in 1918 when he wrote his definitive book because he thought the Athenians could never issue coins this beautiful. In fact, this was a short experimental issue that helped the Athenians determine the standard type they would use for about 150 years. Of all designs, less than 100 of these coins exist with almost all of them coming from two finds. Obverse struck in ultra-high relief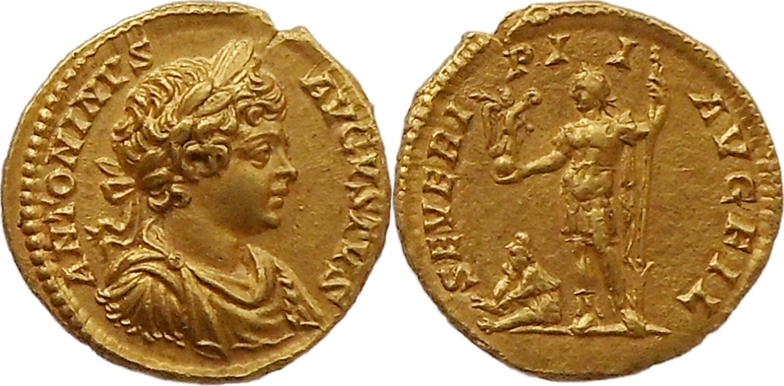 31,850.00 US$
Catalog: RIC 45; Calicó 2818; Hill 416.
Material: Gold
Weight: 7.43 g
Catalog: Ref: BMC – (cf. 172 footnote). Ex Leu 83 2002, lot 791.
Obv: ANTONINUS AVGUSTUS, laureated, draped and cuirassed bust of young Caracalla to the right.
Rev: SEVERI PII AUG FIL: Caracalla, with Victory on globe and spear, standing facing, at his feet left: sitting captive.
Rare. A beautiful representation of great artistic merit of the 11 year old emperor, struck in high relief.
12,995.00 US$
Catalog: Crawford 466/1; CRI 56; Calicó 36
Material: Gold
Weight: 7.98 g – Diameter: 20.00 mm
Julius Caesar. Gold Aureus. LIFETIME ISSUE. Rome, early 46 BC. A. Hirtius, praetor. AV 7.98g, 20mm, 2h. O: Veiled female head (Vesta?) right; C•CAESAR COS•TER around. R. Emblems of the augurate and pontificate: lituus, guttus, and securis; A HIRTIVS PR around lower left. Crawford 466/1; CRI 56; Calicó 36.
12,750.00 US$
Material: Gold
Weight: 3.82 g – Diameter: 20.00 mm
Catalog: Sear:1601
Crowned bust of Irene, wearing loros, holding cross potent in right hand,Enthroned bust facing, wearing crown and clamys and holding akakia in left hand,Very rare. Remarkable example well struck on a full flan with all details visible,AGOVST,IP?? AGOVST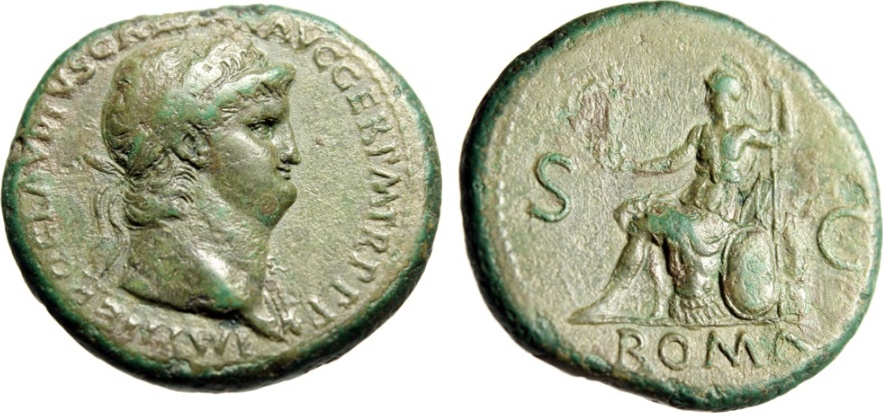 10,000.00 US$
Catalog: RC0002g
Material: Bronze
Weight: 23.31 g – Diameter: 35.00 mm
Obverse: IMP NERO CLAVDIVS CAESAR AVG GER PM TR P P P Laureate head right with slight drapery on shoulder.
Reverse: Roma seated left on pile of arms, holding spear and victory: S-C to sides; ROMA in exergue. RIC: 336 corr (RIC does not note the drapery on shoulder) Very Rare.
Numismatic Notes: Gorgeous natural brown-green patina and a very rare variety! This issue is rare because of the obverse legends, which include the entire "CLAVDIVS" name. RIC does not list the slight drapery on the shoulder, but I believe that this was probably extant on the scant specimens that RIC observed, but was not noted. A very rare type.
OPEN YOUR MA-SHOP and sell to 300.000 collectors

Items listed on marketplaces and search engines, Google & Co.
Marketing Tools, dedicated MA-Shops Support
Email Campaigns
Multi Language, English, French, German, Dutch, Spanish, Italian, Russian, Chinese
Feel free to contact us here