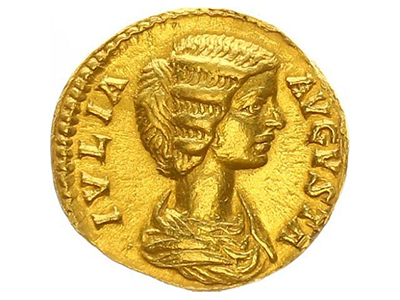 Offered at
6,475.00 US$ / 5,450,00 EUR
This beautiful coin with Julia Domna on the obverse, was struck by Septimius Severus. Born in Syria, she became the second wife of the Roman Emperor Septimius Severus, founder of the Severan dynasty.
As Empress, Julia Domna was famous and she accompanied her husband on several military campaigns.
She received such titles as "Mother of the Invincible Camps"
She died in 217 AD. You can find this coin here, just click the link.
34,470.00 US$
Weight: 7.28 g – Diameter: 20.00 mm
Catalog: RIC:579
Rare in this quality,Julia Domna right,Venus standing left, leaning on column, holding branch and glob,IVLIA DOMNA AVG,VENVS VICTRIX
1,950.00 US$
Material: Bronze
Weight: 16.22 g
Caracalla and Julia Domna; Marcianopolis, Moesia Inferior, Struck under governor Quintilianus, 5 Assaria,
Obv: ANTΩNINOC ΠIOC AVΓOV IOVΛIA Δ – OMNA (the MN of ΔOMNA ligate) Laureate head of Caracalla r. facing draped bust of Domna l. Rx: VΠ KVNTIΛIANO – V MAPKIANOΠ – OΛI – T – ΩN Athena standing l., sacrificing from patera over altar at he feet and placing l. hand on shield resting on ground; behind her owl standing on column with value mark E (retrograde) above. Ex Helios 3, 29 April 2009, lot 179. Rare and elaborate reverse type, very rare obverse legend variant including ΠIOC.
2,000.00 US$
Weight: 3.43 g
Catalog: RIC540
Obv: IVLIA AVGVSTA
Rev: Sons Caracalla and Geta
About Us:
MA-Shops.com, The World's Most Trusted Numismatic Marketplace, offers more than a million ancient, U.S. and ancient coins, along with medals, banknotes, militaria and antiquities. Our vibrant collection is offered by verified and Certified Dealers from around the world. Collectors can search, select and purchase conveniently and confidently knowing every item is authentic and guaranteed. Founded in 2005 by Joachim Schwiening, MA-Shops has offices in Germany and the US.
To become a dealer or for more information, contact us at info@ma-shops.com