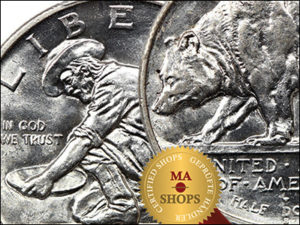 MA-Shops presents the "Coin of the Day".
There is no road of flowers leading to glory…
Blood, sweat and tears are the companions on your way to success. See this classic silver masterpiece of our MA-Shop DLRC showing a digger searching for his personal piece of fortune! This 50 Cent were issued to commemorate the 75th anniversary of the admission of California into the Union. Rated by PCGS with a pretty MS64 and CAC approved a little add on to your collection – go and see more, just click the link.