King George V of the United Kingdom, Kaiser Wilhelm II of Germany and Emperor Nicholas II of all Russia, all were monarchs during the First World War, and all were first cousins of each other. The King, Kaiser and Emperor were all grandchildren of HM Queen Victoria. The scars of the Napoleonic wars were still very fresh during the reign of Queen Victoria. The Queen and her Husband Prince Albert had a vision of a great unified Europe, linked through royal blood. Her plan seemed to be working out very well, because her children and grandchildren were all over European thrones. But after the First World War most of European royal houses where the children and grandchildren were heads of, were abolished. In this blog I will discuss the three grandchildren of Queen Victoria who were sitting on European thrones during the First World War.
Queen Victoria
Queen Victoria became Queen of the United Kingdom in the year 1837 when she succeeded here uncle King William IV. She married Albert of Saxe Coburg and Gotha, who was her husband until 1861 when he died of a fever. Queen Victoria had many different coin-types, like the young head type which was her first type depicted on coins. On this beautiful half Sovereign from 1886, her portrait is very clear and one the most beautiful ways you still see them today!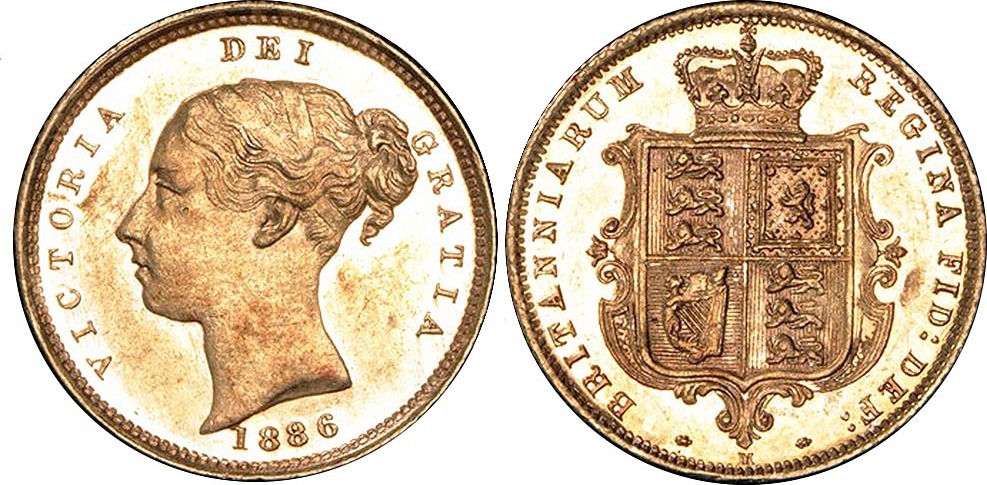 13,380.00 US$
Catalog: KM#3
Weight: 3.99 grams
Melbourne mint
King George V
King George V was the King of the United Kingdom from 1910 till 1936, he became king when his father King Edward VII died on may 6th 1910. King George was one of the many grandchildren of Queen Victoria on European thrones, and he was second of the 6 children of King Edward VII. King George V was the King during the First World War, and had to fight against his own first cousin Kaiser Wilhelm II, a scenario Queen Victoria and prince Albert made their life goal to occur. King George V had just one coin type during his reign, but there were some small adjustments made to the portrait used for the coins. Like making the head and the ears smaller. This is a very nice example of George V 1927 Crown on MA-Shops.
475.00 USD
Catalog: S.4036
Diameter: 38 mm – Weight: 28.3 grams
Fourth Coinage 1927-36
Modified bare head. R/ crown and date in wreath. Practiacly FDC with a deep tone & lustre
Kaiser Wilhelm II
Wilhelm became the Kaiser of Germany on June 15 1888 and reigned until November 1918 when the monarchy in Germany was abolished. The German Kaiser fought in the First World War against his First- Cousin King George V, As earlier said. His mother was the Empress Victoria First and born of Queen Victoria. She was very close with her mother, but Wilhelm himself had no feelings for his royal family in England. In 1918 the Kaiser was cast away from Germany and lived in Exile in a town called Doorn in the Netherlands, he died on June 9 1941. His final wish was that his body may never return to Germany until the monarchy was restored. This is a very nice Example of a 10 Mark 1889 with a very good toning and brilliant depiction.
19,800.00 US$
Catalog: J 249
Diameter: 19.50 mm – Weight: 3.99 grams
A showpiece for every large collection.
Emperor Nicholas II
Emperor Nicholas II became emperor the First of November in 1894 and was the last monarch in Russia. During the February Revolutions the Emperor decided to abdicate for the sake of himself and his family. His first cousin offered him asylum, which he would gladly had taken. But the government had renounced this statement a few months later the said that "they could better go to a neutral county ''. The ex-emperor and his family were sleeping in a small estate as they were waked up and said to go to the basement because there was change the house would be shoot upon. A few moments after they came down in the basement he and his entire family were shot. Nicholas II was the last Emperor to depict on Russian coins, and this is a very nice toned 15 Ruble 1897.
1,125.00 US$
Catalog: Y.65
Diameter: 24.50 mm – Weight: 12.82 g
Written by Joël van Dam, Owner of Joëlnumismatics.
About Us:

MA-Shops.com, The World's Most Trusted Numismatic Marketplace, offers more than a million ancient, U.S. and ancient coins, along with medals, banknotes, militaria and antiquities. Our vibrant collection is offered by verified and Certified Dealers from around the world. Collectors can search, select and purchase conveniently and confidently knowing every item is authentic and guaranteed. Founded in 2005 by Joachim Schwiening, MA-Shops has offices in Germany and the US. To become a dealer or for more information, contact us at info@ma-shops.com